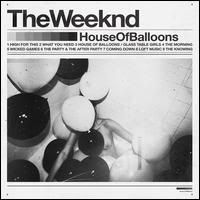 8/10
I often use reviews as an excuse to diffuse hype. I don't know why I enjoy doing that so much. Maybe I just don't like to see other people have fun. Or maybe I just don't like to hear people say things that aren't true. The Weeknd, a solo project from Toronto vocalist, Abel Tesfaye, is everything people are saying about it.
To save time and to have fun by being as brief as possible, here is a one sentence summation of this album:
Heavily trip-hop influenced, dark R&B, smoothly sung in a high-registered falsetto by a vocalist taking a narcissistic bath in drugs, alcohol, emotionally-damaged women, and his own self-pity.
I am going to take a shower now.
LAZY COMPARISON:
Portishead backing R. Kelly on that night he got in a lot of trouble...as he narrates his actions.
2011
Self-Released
1. High for This 4:09
2. What You Need 3:26
3. House of Balloons/Glass Table Girls 6:47
4. The Morning 5:14
5. Wicked Games 5:25
6. The Party and the After Party 7:40
7. Coming Down 4:55
8. Loft Music 6:03
9. The Knowing 5:57