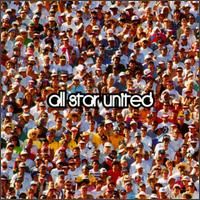 7/10
A little less than half my lifetime ago, my little sister did one of those music club deals where you get like 20 CD's for $10. This was one of the ones she got, and I later inherited it for some reason. Pop-rock has never been my thing, and after a couple of listens I put it away. I dug it up again recently, though, and gave it a little ear time for this project.
All Star United
is a lot better than I remember it, but this genre is still not my thing. It is musically quite similar to Oasis (Wonderwall, a song I love, is not characteristic of their usual, Brit-pop sound), with poppy hooks, and a bit of an edge to the guitars. What sets this album apart is the retro feel throughout, with tinges of 60's psychodelic rock and even a couple of disco riffs, which don't sound at all out of place.
Unlike Oasis, All Star United's faith-based lyrics aren't about cocaine, but they are probably one of the stronger aspects of the CD. Frontman, Ian Eskelin, is a pretty great employer of sarcasm. La La Land features the winner:
My Jesus decal does quite a trick/right above my dashboard I stick it/a good luck charm/it keeps me from harm/and saves me from speeding tickets
.
Most of the best songs mock an impersonal selfish faith, while promoting a sacrificial, selfless one. "Smash Hit" references exploitation of Jesus in the same vein:
A clever market plan/He didn't understand/That's all it really takes/He could have played for higher stakes/Now, somehow/we've gone wrong/This Jesus thing, it's a smash hit/It's packaged right/All stocks have split, it's a smash hit/It's gone worldwide
I don't know why all of the best lyricists in Christian rock are Swedish, but make of that what you will.
Perhaps the only flaw with the album is a personal flaw in me. This style of music just wears away at me. As far as the genre goes, I don't see how this could get much better, though. If you can listen to
(What's the Story) Morning Glory?
without just skipping to "Wonderwall" and "Champagne Supernova," you can easily listen to this, and Eskelin's lyrics are far smarter than anything the Gallagher brothers have penned.
1997 Reunion Records
1. La La Land 3:52
2. Bright Red Carpet 4:11
3. Angels 3:01
4. Drive 4:53
5. Torn 3:51
6. Smash Hit 3:25
7. Saviour of My Universe 3:32
8. Beautiful Thing 3:51
9. Tenderness 4:14
10. Lullaby 8:18