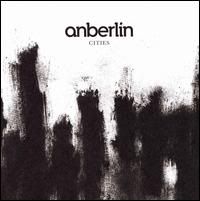 9/10
Things start off a little differently on Anberlin's third studio album,
Cities
. Instead of just diving headfirst into things, they actually take an entire track just to build up to the first track, "Godspell." At this point they come out full cannons blazing, and for once in their entire catalog, they actually don't let up. That's not to say there isn't room to breathe, but it's as if they put a guard at the door to keep the cheese out this time. Poor Mr. Cheese is forced to stand outside the window and watch as Anberlin just rocks out for 46 minutes. For anyone who has experienced this band live, then put on one of their albums and wondered what happened in translaton, Anberlin is finally speaking your language. Then the fifth track starts. As soon as I heard the acoustic guitar come in, I thought, "Oh crap, here we go!" But instead of a cheesy ballad that completely kills the momentum, we get an honest to God decent acoustic song, made by men. Also, the harmonies are really, really sweet, and the song isn't aimless--it builds to quite a nice coda. The next track immediately goes back to rocking out, and even a synth-intro can't ruin the pace. Aaron Sprinkle completely redeems himself for the over-producing he did on
Blueprints for the Black Market.
He lets everything sound nice, big, and real, mostly just adding a subtle touch of piano or a thick keyboard groove here or there and staying out of the way. This is the dude that produced
Summer of Darkness
. He keeps the band on target all the way to track ten, "Inevitable," when the cheese's face presses so hard against the glass that it breaks through and dances with the band as they finally break down and do a lame ballad. Hey, at least it's just one track, and the arrangement is so nice, it almost redeems the song. Sprinkle can produce some strings, and the drums come in all big and satisfying in the last minute. In fact, I'd go as far to say that drummer, Nathan Young, owns this album. He does a memorable job on just about every song.
Oh, and the next song made me cry. Anberlin punches the cheese in the face, throws it out, and get back to rocking, and FINALLY, FINALLY fulfill their potential. We know they can rock, and we know they can write a great hook, but up to this point it's always felt like they were holding something back. Then "Dismantle. Repair." literally tears down whatever wall was holding Anberlin down. I cried like I'm sure I will when my kid learns to ride a bike (do kids still ride bikes?) upon hearing it. They finally grew up.
This must have made them feel a little too big for their britches, though, because they bite off a little more than they can chew on the nine minute album closer, "(*Fin)." It features a children's choir and the lyric, "
Billy, don't you understand?/Timothy stood as long as he could and now/you made his faith disappear
."
What?
Anyway, about half of the song works. They shot for the moon, and just kind of grazed the outer atmosphere, but that's okay. After spending a full album finally living up to their potential they've earned just a little pretentiousness.
2007 Tooth & Nail
1. (Début) 1:27
2. Godspeed 3:02
3. Adelaide 3:14
4. A Whisper & A Clamor 3:25
5. The Unwinding Cable Car 4:17
6. There Is No Mathematics To Love And Loss 3:11
7. Hello Alone 4:00
8. Alexithymia 3:23
9. Reclusion 3:31
10. Inevitable 3:47
11. Dismantle.Repair. 4:18
12. (*Fin) 8:53