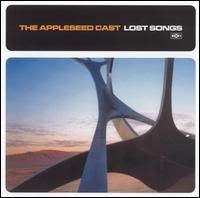 8/10
So you've just done something musically no one else ever has, surely reached an artistic pinnacle, and have no idea where to go next. What do you do? The Appleseed Cast decided to revisit a similar point in their career, and resurrect songs they'd previously left to die.
All nine tracks on
Lost Songs
were originally written and recorded during the period of time between The Appleseed Cast's debut,
The End of the Ring Wars
, and their sophmore breakthrough,
Mare Vitalis
. Not content to simply leave the songs as they were, The Appleseed Cast added vocals and ambient touches they had recently learned on the
Low Level Owl
project to give the songs a fuller sound, and to make sure they fit together in a unified listening experience.
The major difference between
Lost Songs
and every other point in The Appleseed Cast's career is the drumming. The drumming has always been the standout on their LP's, but at this point they were between drummers and had to find a few fill-ins. This means that the songs can't lean on this trusty foundation and have to lean on their own legs. This actually works. Most of the tracks focus on dynamics more than verses and choruses. After a quiet intro,"E to W" starts
Lost Songs
with a bang, blasts of bass, cymbals, guitar, and the old
Ring Wars
' saxophone suddenly giving way to a quiet vocal moment before exploding into a finish and then quiet outro identical to the start.
The following tracks take similar twists and turns, loud and quiet bouncing off each other like rubber balls, vocals sometimes only popping up for outros in a joyously unpredictable manner. This changes drastically during the terrifying death drone of instrumental seventh track "House on a Hill," which leads into the haunting, driving acoustic number, "Beach Gray." After so much unpredictability, one need only look at the title of the final track to know what's coming next. "Novice Ambient Cannibalization" is exactly that, a heavenly ambient remix of
Lost Songs'
third track, "Novice." "Cannibalization" ends things grandly in a curiously circular way, building a peacefull anticipation for whatever will come next.
2002 Deep Elm Records
1. E to W 3:42
2. Peril, Pts. 1-3 6:56
3. Novice 4:24
4. Facing North 3:41
5. Take 2:13
6. State N w/K 2:38
7. House on a Hill 5:51
8. Beach Gray 3:06
9. Novice Ambient Cannibalization 7:26