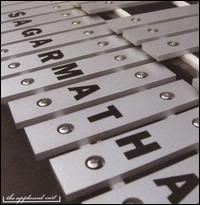 9/10
It takes guts to try something new with every album, and more importantly, quite a bit of skill to make innovation work every time. There is one band that does not find this difficult. The Appleseed Cast use few words on
Sagarmatha
, and I'll try to do the same in this review.
Instrumentals have long been staples in The Appleseed Cast's ouvre, popping up here and there on every album but one.
Sagarmatha
gives the instrumentals deference: only four of its nine tracks even feature vocals, only two prominently. Its tracks sometimes use the slow-build-to-raucous-ending approach so many of The Appleseed Cast's peers attempt to apply. This is especially true on album opener, "As the Little Things Go,"
which features vocals at the end only because there are no other expressions of emotion left to utilize. The guitars, bass, and drums have left little unsaid.
Sagarmatha
does not stick to any overall formula, though, sometimes starting tracks with the crescendo, sometimes delaying one that never comes, and on "The Summer Before," surprisingly letting the vocals shine through sweetly.
While
Sagarmatha
is just as unpredictable as The Appleseed Cast's previous album,
Peregrine
, it contains a warmth that Peregrine lacked.
Sagarmatha
is the Nepalese word for Mount Everest, and it is truly difficult to comprehend how The Appleseed Cast can take their sound higher than this.
2009 Militia Muzik
1. As the Little Things Go 8:14
2. A Bright Light 7:04
3. The Road West 8:08
4. The Summer Before 3:08
5. One Reminder, An Empty Room 1:49
6. Raise the Sails 6:26
7. Like a Locus (Shake Hands with the Dead) 4:01
8. South Col 6:26
9. An Army of Fireflies 4:27