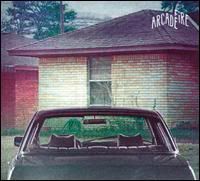 6/10
Arcade Fire's
The Suburbs
is an uncooked $10 steak, on a hamburger bun topped with sardines, deep fried, and dipped in chocolate milk.
My only real problem with Arcade Fire's
Funeral
is that it bogged down in the plodding middle. Sophmore album,
Neon Bible
, fixed this problem by varying the tempo and increasing the diversity.
The Suburbs
, however, takes all of Arcade Fire's worst qualities and piles them on for a band high, 16 tracks, and 64-minutes. There are lyrical nuggets that bearded dad-rock enthusiasts (I might be a dad, but I ain't no dad-rocker) will enjoy:
Living in the sprawl/Dead shopping malls rise like mountains beyond mountains/And there's no end in sight/I need the darkness, someone please cut the lights
. While pseduo-intellectuals can debate the meaning and importance of darkness in "Sprawl II," which contains these lines, I find myself snagging on the painful blandness of the electronic drums and keyboard line leading the song, never mind the painful ironiy of vocalist, Regine Chassagne's shrill voice harping out the line, "
They heard me singing and they told me to stop
" immediately after the previous lines.
That's not to say there aren't any good songs to be found on
The Suburbs
. "Empty Room" is a much needed blast of fresh energy, but also has a "where have you been this whole time" feeling when it doesn't even appear until the five spot. The first four tracks are stillborn. There is one called "Ready to Start," but it isn't even first, and it sounds tentative at best. The best track is probably "Suburban War," which while muddying the lyrical themes, at least sounds pretty nice.
Listen to Arcade Fire's "Suburban War"
Arcade Fire actually do a great job with this late-60's rock sound, and I wish they would have pursued it further on
The Suburbs
, or really pursued or focused on any sound, instead of the muddled plodding mess they ended up with. And speaking of muddled, I mentioned the lyrics a second ago, and muddled they are. What Win Butler and his wife are talking about, I'm not sure. I get the "living in the suburbs is weird and not good" vibe clearly, but as for what they are attempting on a deeper level, that's anyone's guess, but hopefully their's.
The most ironic thing about
The Suburbs
is that, while it is easily the weakest thing Arcade Fire have done, it won 2011's album of the year award at The Grammy's, launching the band into the national spotlight. This victory created so much confusion in the viewing public, that its reaction has forever been encapsulated in the website,
Who is Arcade Fire?
Besides extreme anger at the band denying Justin Bieber a victory, the general consensus among regular folks was, "where did this band come from, and who actually considers this good?" Sadly, as a longtime fan of Arcade Fire, I could not defend them. All I could think of during their encore Grammy performance of another song from
The
Suburbs
was "Who is Arcade Fire, and who actually considers this good?"
2010 Merge
1. The Suburbs 5:15
2. Ready to Start 4:15
3. Modern Man 4:39
4. Rococo 3:56
5. Empty Room 2:51
6. City with No Children 3:11
7. Half Light I 4:13
8. Half Light II (No Celebration) 4:27
9. Suburban War 4:45
10. Month of May 3:50
11. Wasted Hours 3:20
12. Deep Blue 4:28
13. We Used to Wait 5:01
14. Sprawl I (Flatland) 2:54
15. Sprawl II (Mountains Beyond Mountains) 5:25
16. The Suburbs [Continued] 1:27