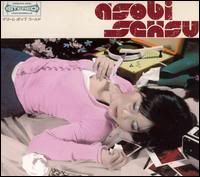 8/10

Asobi Seksu's debut is one of those albums tough to describe without just throwing out genre buzzwords like dream-pop or shoegaze. It sounds like a release by a band with a lot of talent not quite sure of what they want to do, but interested in trying a lot of things, and good at pretty much all those things. At the risk of being obtuse, here is a really abstract review.
Every silver lining has a cloud. Every thing would be perfect if we were together, but we are not together. Oh, well, I guess I'll go out.
THE COLOR RED
I'm over it, I guess. Nothing like a lazy, late summer day, in the grass, clouds above. Hell, I'm not over it. I'll probably live, though. I might do some bad things while I'm dealing. Wait, you're not over it, either? Sighing isn't speaking.
Keyboardist, Yuki Chikudate, and guitar-player, James Hanna, trade off female/male vocals nicely, and they both sound like they mean it. Guitars are sometimes a beautiful, bowl-over wall of sound, sometimes just one acoustic, plaintively strummed. The color red:
2004 Friendly Fire
1. I'm Happy But You Don't Like 3:07
2. Sooner 3:45
3. Umi de No Jisatsu 2:23
4. Walk on the Moon 4:33
5. Let Them Wait 2:47
6. Taiyo 2:01
7. It's Too Late 7:17
8. End at the Beginning 4:21
9. Asobi Masho 1:25
10. Stay 5:02
11. Before We Fall 2:39