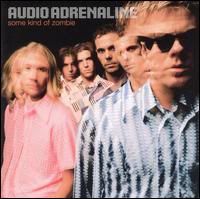 7/10

Audio Adrenaline's
Some Kind of Zombie
is a bit of a conundrum. It retains the more rocking sound of Bloom, and maybe rocks a little harder. The difference is, the classic rock influence is replaced with an industrial touch. Check out the title track.
Listen to Audio Adrenaline's "Some Kind of Zombie"

This adds an entirely new dynamic to Audio Adrenaline's sound, but the classic rock touches are missed. This would be okay, though, but for one thing: the songwriting is just not as solid as it was on
Bloom
. Audio Adrenaline had a guitar player change-up during the recording of this album, and this may have had an effect on the process. As they went on from
Some Kind of Zombie
, they seemed to gel better and better until the end, so perhaps this album can be looked at as a bit of a placeholder--an album where the band is in motion and unfocused, looking for the next direction. Despite the weaker songwriting,
Some Kind of Zombie
is certainly not bad, and not overly dated. It is a little reminscent of early Skillet with stronger vocals--Mark Stuart again sounds great here, though the classic rock sound better complemented his voice. However, Audio Adrenaline would find their way again soon.
1997 Forefront Records
1. Chevette 4:19
2. New Body 3:57
3. Some Kind of Zombie 4:45
4. Original Species 4:32
5. People Like Me 3:15
6. Blitz 4:13
7. Lighthouse 5:01
8. Flicker 3:54
9. God-Shaped Hole 4:08
10. Superfriend 9:13