The next morning I was a flesh case of jangling nerves. That sentence was horrible. Anyway, I was very nervous because I was going to meet some from friends that I had...never met before. Fifteen years ago, that sentence would not have made sense, but it's the future now, and beside flying cars and frequent space travel to our colonies on other planets, we also have Internet friendships. I met Jess and soon after, her husband, Neal, (really, are this many commas necessary?) through this very blog almost seven years ago. The fact that I now blog about meeting them in the flesh on this same blog means that the world will end: now...
Crap, that didn't work. I thought I could make a paradox, and I blew it. Nothing even exploded. LAME. Anyway, back to this post, I guess. Neal and Jess live in east-central Minnesota, and drove down to the Twin Cities to meet me. I had never even seen a picture of them, so I had to just assume and hope they were not Catfish.
Catfish
, if you haven't seen it, is a 2010 documentary about Nev Schulman, a man who believes he has been talking to the daughter of a Michigan painter and the rest of her family on the Internet. In a twist that can only happen in real life, Nev finds he has actually been talking to a monstrous, radioactively mutated Catfish, who in the film's shocking climax, uses its fin-stingers to completely incapacitate Nev before devouring him whole. While this is one of the most gruesome events ever caught on film, I highly recommend you show this movie to your children so that they will be aware of the dangers of the World Wide Web.
My brother had to return the Penske that morning, so my sister-in-law took me to the Edina Target to meet Jess and Neal. I got so nervous, I had to go into Target to pee, and despite the fact that I was wearing a T-Shirt and shorts, someone asked me if I worked there, and if so, could I help them. I guess the employee dress standards are more relaxed at the Edina Target than the ones in Baton Rouge or something.
I came back out to see a car parked next to my sister-law's vehicle. I couldn't look. Would the windows be down to allow the fins to stretch, or would they be up and hermetically sealed so that the car could be filled with water, thus allowing the Catfish to breathe? The doors opened, and I leapt backward in a defensive posture, immediately wishing I had an oar, or better yet, a harpoon gun.
Two completely normal-looking people, one male and tall, one female and not so tall, got out of the car. I sighed with relief. Neal and Jessica were not Siluriformes. They were real people with cool t-shirts.
The three of us got into the car and headed to the Minnesota Renaissance Festival. We have one every year in Baton Rouge, too, but I've never been. Neal and Jess, who had been to the one in Minnesota many times, thought it would be a fun thing to do, and they were right. Of couse, as usual, my main desire was to eat, and eat I did: I nabbed a turkey leg (You actually have to fight the turkey for it, and this can get quite brutal, just as it was in the Middle Ages, but I decieved my turkey into thinking I was just checking it for bug bites before delivering the fatal blow. What can I say, carnivory is a dangerous business), fried cheese curds (you actually have to fight the cheese for the curds, but the fight is really one-sided and delicious), a glass of mead (apparently, mead is honey wine...and it tastes like honey wine, so there you go), and I don't remember what else because I was eating.
Also, people made pretty things out of glass and stuff, but in a flashback to Germany, I couldn't afford any of it and got depressed and just used my meager (but appreciated) funds to purchase more food. The most entertaining performer at the Renaissance Festival was this bard dude that spoke in
spoonerisms
. He once re-told Romeo and Juliet as Jomeo and Ruliet, and the day we were there he did a version of Rapunzel, known as Parunzel. He also told this joke:
Did you hear what Brad Pitt and Anjolie Jolie named one of their 2,000 kids? Shiloh Pitt. Imagine if I told this joke in a spoonerism.
Awesome. I'll explain it to you later.
Also, I took a picture of myself with Neal and Jessica, but they are private people, so I blurred the picture out a little to keep them anonymous.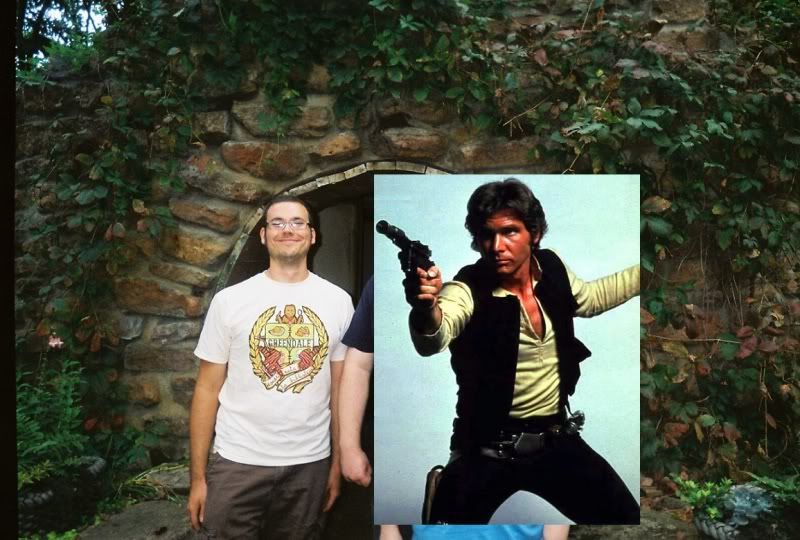 Actually, I don't know how to blur a picture out, or even use photoshop, so there you go. Around this point a hunger arose even Renaissance food could not satisfy. It was time to visit a place Neal highly recommended:
Convention Grill
. We sped out of the past, and into the glorious saturated fat of the future. Convention Grill is a bit like an old-fashioned diner, and more, um, conventional than The Nook, but no less delicious. I got a burger with Muenster, a Butterscotch Malt (YES! BUTTERSCOTCH! YES!), and in a tribute to The Rabbit, and not knowing when I would have the chance to return, a Hot Fudge Sundae. Yes, a malt and a hot fudge sundae at the same time. And there were no cow byproduct survivors.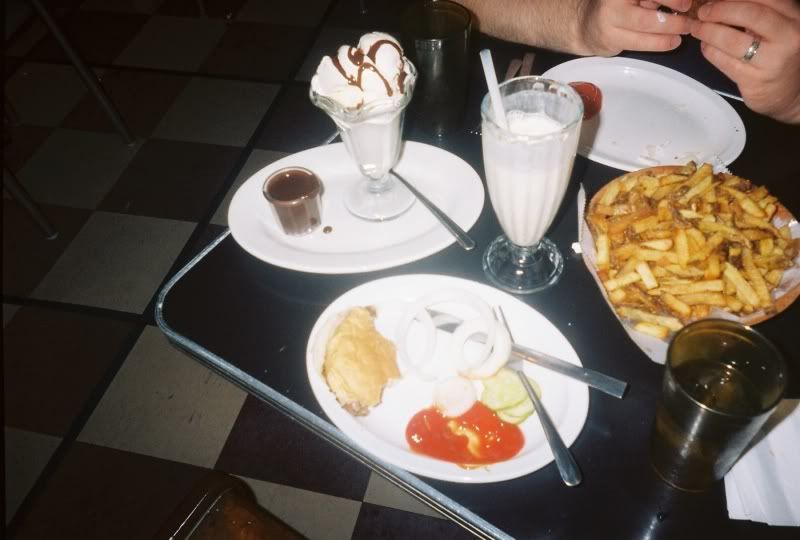 Also, there were fries.
After the massacre, Neal and Jessica drove me around town...well Neal drove, it would have been awkward and kind of impressive if they had both driven at the same time. We saw some lakes, and either the downtown area or somewhere close to it, and there were people celebrating in the streets for some reason. We all got out of the car, and Neal and Jess, shown unblurred just this once, got a little out of hand, but there you go.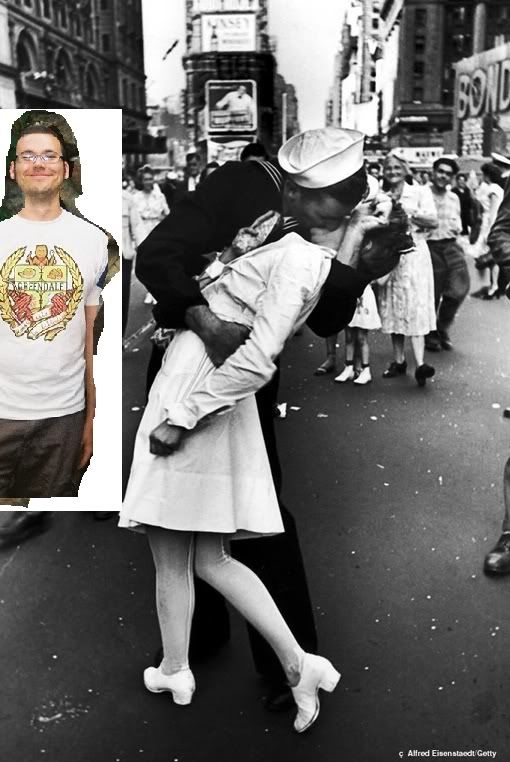 After that little adventure, it was time to get back to my brother's place because LSU was playing because LSU was playing because LSU was playing because LSU was playing.
I invited Neal and Jess in, and they got to see a grown man act like an insane grown man. Also, they had sensible conversation with my brother and sister-in-law. Goofus was there, and he growled a lot and acted like he wanted to bite everybody, but I'm sure that's just because he was having withdrawals from his drug addiction.