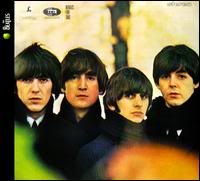 8/10
"We got more and more free to get into ourselves. Our student selves rather than 'we must please the girls and make money', which is all that "From Me to You", "Thank You Girl", "P. S. I Love You!" is about. "Baby's in Black" we did because we liked waltz-time ... and I think also John and I wanted to do something bluesy, a bit darker, more grown-up, rather than just straight pop."--Paul McCartney on recording Beatles for Sale
While there are tiny steps forward between The Beatles' first, second, and third albums, there is a tangible shift between
A Hard Day's Night
, and
Beatles for Sale
. This is obvious from the sarcastic album title, the moody album cover, and the songs themselves.
"No Reply" starts things off with a notable jump in songwriting quality and attitude. Lennon (who for the most part, owns this album) sounds as real as he did on "Twist and Shout," except this is the first track on the album, and he actually wrote this song. The quiet/calm, loud/intense dynamic is excellent, the buildup is wonderful. The lyrics, still romance-based, are far more introspective, and the chord changes are surprising and moody. It might be the first Beatles-penned track that is truly great, not just as a crowd pleaser, but as a song.
The second track is called, "I'm a Loser." If you can't tell from the title, the tempo set by the first track doesn't ebb in the second. Even "Baby's in Black," which takes the token third track ballad spot, is idiosyncratic and morose. Speaking of ballads, McCartney even manages to write and sing one that doesn't sound like it's drenched in Aunt Jemima's. It's called, "Follow the Sun," and it's a wonderful, shame-free song. There are covers again on this album, but instead of regressing from the all-original,
A Hard Day's Night
, The Beatles really make these songs sound their own. And screw you, 1960's critics and
Allmusic.com
--"Mr. Moonlight" is an excellent cover! How can any song that starts with John Lennon's voice sounding like this be bad?
The weird,slightly creepy organs in "Mr. Moonlight" are great as well as Ringo's tumbling drumbeat.
Unfortunately, the second side of the record (or the second half of the CD) doesn't take nearly as many risks. "Eight Days a Week" plays with recording techniques, but doesn't break any ground as a song. The covers sound safer. Lyrics are a little more shallow. None of the songs are bad, though, they just pale next to the first half. On the flip side, Ringo adds more to this recording than on any previous releases. "What You're Doing" isn't that interesting of a song, but Ringo's big intro/outro beat is a classic.
Overall,
Beatles for Sale
finally sees the band taking a leg out of the teeny-bopper pool and dipping their toes into the vast ocean of the history they were soon to make.
POSTSCRIPT EDIT: I talked about some of the memories this music stirs in me in the
Please Please Me
post. For some reason
Beatles for Sale
reminds me of my grandmother's driveway in Morganza. I have no idea why.
1964 Toshiba
1. No Reply 2:16
2. I'm a Loser 2:30
3. Baby's in Black 2:04
4. Rock & Roll Music 2:31
5. I'll Follow the Sun 1:48
6. Mr. Moonlight 2:38
7. Kansas City/Hey-Hey-Hey-Hey! 2:38
8. Eight Days a Week 2:43
9. Words of Love 2:04
10. Honey Don't 2:57
11. Every Little Thing 2:03
12. I Don't Want to Spoil the Party 2:34
13. What You're Doing 2:30
14. Everybody's Trying to Be My Baby 2:27