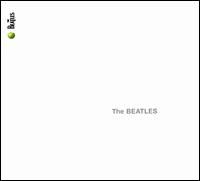 9/10
The Beatles
is simply the sound of The Beatles proving they can do absolutely anything. Paul, often accused of being soft (by myself included), proves he can rock hard enough to inspire Ozzy Osbourne. He and every other member prove they can do anything, even be terrible, but mostly good, and sometimes great, enough to make
The Beatles
easily essential. I can say this without jumping the gun.
The title of the record is perfectly apt because it shows the band's full scope. The artwork is perfect for
The Beatles
because instead of facing an every color of the crayon makes brown sludge scenario, every song comes together to form some strange purity that no other band could achieve. Even the Billy Corgan one. And if that much complication can create simplicity, why waste more words trying to describe it? Get in the bathtub and put your headphones on.
1968 Apple Corps
Disc 1
1. Back in the U.S.S.R. 2:43
2. Dear Prudence 3:55
3. Glass Onion 2:17
4. Ob-La-Di, Ob-La-Da 3:08
5. Wild Honey Pie 0:52
6. The Continuing Story of Bungalow Bill 3:14
7. While My Guitar Gently Weeps 4:44
8. Happiness Is a Warm Gun 2:44
9. Martha My Dear 2:28
10. I'm So Tired 2:03
11. Blackbird 2:18
12. Piggies 2:04
13. Rocky Raccoon 3:33
14. Don't Pass Me By 3:50
15. Why Don't We Do It in the Road? 1:41
16. I Will 1:45
17. Julia 2:56
Disc 2
1. Birthday 2:43
2. Yer Blues 4:00
3. Mother Nature's Son 2:48
4. Everybody's Got Something to Hide Except Me and My Monkey 2:24
5. Sexy Sadie 3:15
6. Helter Skelter 4:29
7. Long, Long, Long 3:06
8. Revolution 1 4:15
9. Honey Pie 2:41
10. Savoy Truffle 2:54
11. Cry Baby Cry 3:02
12. Revolution 9 8:22
13. Good Night 3:15