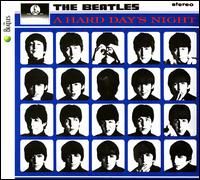 7/10
The Beatles return with more of the same, and yet something completely different on A
Hard Day's Night
. I remember watching this film on the Disney Channel one night when I was a child (and Disney was a completely different channel that actually geared some programming toward adults), and not knowing what to make of it. All I knew was that these girls were chasing these four guys in suits around everywhere, and they rode on trains and stuff, and there were catchy songs in the background. That's all I remember, anyway, so all I can do is take this album as something that stands on its own--which returns me to the opening sentence.
Musically, this doesn't sound much different from the first two albums: twangy, rocking songs, mixed with slowed-down ballads, all straightforward. If there's a difference, it's a noticeable growth in swagger--for this album, and for the first time, The Beatles wrote every song themselves, and this increase in confidence shows in the music. They sound a bit tougher, even though they still sing constantly about crying because of girl-trouble. Yes, the lyrics employ slightly bigger words and are more thematically cohesive (coming and going being the obvious common thread), but they still can't liftoff past the teenage romance stage. That is what seems to be holding the band back more than anything. You can tell by some of the additional instrumentation (which you can also find in the previous two albums) that they want to break the mold, but they don't have the experience or talent to yet do it. Then again, the three albums I've so far reviewed came out over the span of barely more than a year, so maybe I should cut these kids a break.
Lord knows they need it.
1964 Toshiba
1 A Hard Day's Night 2:34
2 I Should Have Known Better 2:43
3 If I Fell 2:19
4 I'm Happy Just to Dance with You 1:56
5 And I Love Her 2:29
6 Tell Me Why 2:08
7 Can't Buy Me Love 2:11
8 Any Time at All 2:11
9 I'll Cry Instead 1:45
10 Things We Said Today 2:35
11 When I Get Home 2:16
12 You Can't Do That 2:34
13 I'll Be Back 2:26