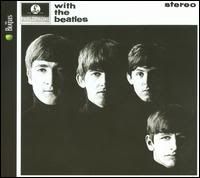 7/10
The Beatles return with more brainless pop music on their sophmore album,
With the Beatles
. The formula is tweaked a little, and there's a bit more of an edge to it, but
With the Beatles
is still cut from the same mold as
Please Please Me
.
The compositions do sound a bit more complex. "Till There Was You"'s delicate, sophisticated acoustic arrangement stands out particularly, as does the whimsical nostalgia of "You've Really Got a Hold on Me." There are more little touches here and there, like the low-octave piano in "Not a Second Time," adding depth and atmosphere to the recording. John and Paul's voices gel better, perhaps a product of the months touring between the previous album and this one. While these are baby steps forward, the lyrics are still ankle-deep and almost entired focused on schmaltzy romance. This all adds up to another fun but harmless listen.
And on a final note...
Like
Please Please Me
,
With the Beatles
ends on a rawer number, this time the Motown standard, "Money." The vocals are harsher and more alive, and the song is a blast...
Until this ruins it for you for the rest of your life:
1963 Apple Corps
1. It Won't Be Long 2:13
2. All I've Got to Do 2:02
3. All My Loving 2:07
4. Don't Bother Me 2:28
5. Little Child 1:46
6. Till There Was You 2:13
7. Please Mister Postman 2:34
8. Roll Over Beethoven 2:45
9. Hold Me Tight 2:31
10. You've Really Got a Hold on Me 3:01
11. I Wanna Be Your Man 1:59
12. Devil in Her Heart 2:26
13. Not a Second Time 2:06
14. Money (That's What I Want) 2:51