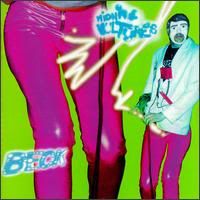 7/10
Beck's
Midnite Vultures
is the party before the apocalypse. Released a month before the near world-ending Y2k (so close, end of the world, so close!),
Midnite Vultures
has the strange distinction of being at once Beck's most fun album, but also his most difficult. The reason
Midnite Vultures
is so difficult? Because it is absolutely ridiculous.
I remember reading an interview with Beck sometime at the start of my senior year of high school. Within, he announced that his last album of the millenium would be absolutely stupid.
Midnite Vultures
is pretty stupid.
HINT
: Midnight is not spelled "midnite."
Perhaps one track out of eleven ("Beautiful Way") can lyrically be taken seriously. The other ten are strange, sexual non sequitors that make little sense and seem to be composed solely for laughs. Thankfully, the music is up to par, and probably the main reason is (skip the next part, I'm being ridiculous again)
Beck – synthesizer, guitar, piano, keyboards, programming, vocals, choir, chorus, producer, vocoder, horn arrangements, mixing
David Campbell – viola, string arrangements, string conductor
Larry Corbett – cello
Joel Derouin – violin
Brian Gardner – mastering
Bernie Grundman – mastering
Greg Leisz – pedal steel
Jay Dee Maness – pedal steel
Johnny Marr – electric guitar
Michael Patterson – mixing
Herb Pedersen – banjo
Fernando Pullum – horn
David Ralicke – trombone
Joe Turano – horn, background vocals
Arnold McCuller – background vocals
Smokey Hormel – guitar
Joey Waronker – percussion, drums
Beth Orton – background vocals
Chris Bellman – mastering
The Dust Brothers – scratching, programming, producer, engineer
Robert Carranza – string engineer
Steve Baxter – horn, background vocals
Justin Meldal-Johnsen – synthesizer, bass, guitar, percussion, background vocals, handclapping, shaker, upright bass
Steve Mixdorf – second engineer
Valerie Pinkston – background vocals
Roger Joseph Manning Jr. – organ, synthesizer, piano, tambourine, background vocals, choir, chorus, clavinet, percussion, shaker, vocoder
Mickey Petralia – programming, producer, engineer, mixing
Shauna O'Brien – project manager
DJ Swamp – scratching
Eve Butler – violin
Charlie Gross – photography
Arroyo Bombers – choir, chorus
Arroyo Tabernacle Men's Chorale – choir, chorus
Jon Birdsong – trumpet
Derek Carlson – second engineer
Eye – artwork, art direction, design, collage
Gimbop – layout direction
Michel Gondry – collage
Tony Hoffer – guitar, programming, producer, engineer, editing, mixing, wah wah guitar, sound design
David Arthur Brown – tenor sax
(resume reading) Good grief, that's a lot of people. I don't mean to repeat myself, but this is even more performers than I wiki-quoted in my Beatles'
Magical Mystery Tour
review the other day. I'm not trying to say that more performers equates to better music, but when an album has that much musical variation, it's tough to get bored, especially when the music is well-written and being played at a high level of skill.
Speaking of
Midnite Vulture
's music, it is a weird sort of funky, futuristic R & B, though somewhere, buried miles beneath, is Beck's tender, folky side waiting to burst out, though it rarely ever does (a little on the "Milk and Honey" outro, with it's acoustic guitar and flute(?), and bits of "Beautiful Way," which includes a nice harmonica solo).
So what we have here is an album featuring great, original music, with Beck belting out "I want to defy the logic of your sexx laws (yes, two x's)", "Give those pious soldiers another lollipop, cuz we're on the good ship,
Menage a Trois
," "I can smell the V.D. in the club tonight," and "I wanna get with you, only you girl, and your sister, I think her name's Debra." The last lyic comes from album closer, "Debra," which some kid made an awesome live action drama to...but he took it down, so here's just the song:
So anyway, if you have a sense of humor and like fun music, this is an enjoyable album, but if you are looking for Beck's serious side, or any seriousness whatsoever, steer far away--or simply steer to his next album, reviewed tomorrow (and in the case of its title, this pun works! You would be steering away from the good ship,
Menage a Trois
, to
Sea Change
. Get it? I'M SO BRILLIANT!).
NOTE
: I hope it's clear that this review is scattered because this album is, too. I try to write with the feel of the music...whatever...
1999 DGC Records
1. Sexx Laws 3:39
2. Nicotine & Gravy 5:12
3. Mixed Bizness 4:10
4. Get Real Paid Beck 4:20
5. Hollywood Freaks 3:59
6. Peaches & Cream 4:54
7. Broken Train 4:11
8. Milk & Honey 5:19
9. Beautiful Way 5:43
10. Pressure Zone 3:06
11. Debra 13:48