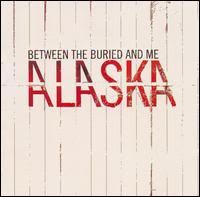 8/10
"
If you thought that SYSTEM OF A DOWN was "originally bizarre" and that THE MARS VOLTA was "strangely ethereal," and that TOOL was "weird but awesomely heavy"...well...welcome a band that you never knew existed...the deranged, progressive, maniacal yet tranquilizing world of... BETWEEN THE BURIED AND ME.
"
Who could resist such a welcome? While visiting FYE after a hard day's work administering disaster relief food stamps to Hurricane Katrina victims, I saw this on a sticker cloaking the front cover of a CD titled
Alaska
by a band called Between the Buried and Me (I love me some long sentences). Pockets often empty suddenly flush with cash from the insane amounts of overtime I was working and wanting of course to keep the Louisiana economy going, I picked this CD up for a bargain price. The first two of the three bands listed had been rocking my world all year (in fact, they were probably releasing their career best work in 2005), and Between the Buried and Me were about to join the fray.
After about a minute of listening to
Alaska
, one thing became clear: beyond the "anything can happen" feel, Between the Buried and Me did not sound like any of the previously mentioned bands. They were insanely heavy most of the time and actually fit the second part of the sticker pretty aptly: deranged, progressive, maniacal, yet tranquilizing. Perhaps the best description of this album can be found in the best song, "Selkies: The Endless Obsession." The beginning of the song is an anvil hurricane, the middle is progressive, and the ending is wonderfully tranquil:
This song shows off everything Between the Buried and Me can do well, ridiculous brutality, insane guitar solos, almost supernatural technical ability on each instrument, nutty time changes, and soothing melodies. The rest of the album is quite good, though the mix of heavy and pretty is tilted quite far toward the former, which is really the
Alaska
's only flaw. Blast-beat riffage can get old after a while, and when you can do pretty so well and have a vocalist with such a great singing voice (check "Backwards Marathon" from 2:30 to 6:30
and all of its instrumental descendant, "Medicine Wheel" for more pretty), why not do it a little more? There are enough surprising and surprisingly beautiful moments to make this album quite good, but the band hadn't quite perfected the mix to the degree they would soon. Still, I was quite happy with my purchase six years ago, and I like
Alaska
just as much now. It's as brutal and beautiful as the state it's named for.
2005 Victory Records
1. All Bodies 6:12
2. Alaska 3:57
3. Croakies and Boatshoes 2:22
4. Selkies: The Endless Obsession 7:23
5. Breathe in, Breathe Out 0:55
6. Roboturner 7:07
7. Backwards Marathon 8:27
8. Medicine Wheel 4:18
9. The Primer 4:46
10. Autodidact 5:30
11. Laser Speed 2:53