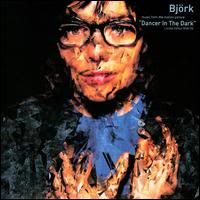 6/10
Selmasongs
, featuring music from Björk's film debut, Dancer in the Dark, is a strange beast. It starts out as a film score with the big hopeful "Overture," but the found sound beats of the film begin on track two, "Cvalda." Machinery noises from Björk's character's workplace make up the rhythm of the song, and Björk and actress, Catherine Deneuve, provide the vocals just as they do in the film. This approach changes immediately on track three, "I've Seen It All," where actor Peter Stormare's shaky, character-filled vocals from the film are switched out with vocals by Radiohead's Thom Yorke. This makes for a great song, but with Peter Stormare's vocals cut along with the deep, frightening background work by some fieldhands, "I've Seen it All" doesn't fully resemble what can be heard on Dancer in the Dark, and the emotion is completely different. I prefer the version from the visually stunning film, which may be because I saw it before I heard
Selmasongs
, despite the fact that I love Yorke's vocals on the new cut. I'll let you decide which is best(but you really should watch the film anyway--it is easily one of the best musicals of this young century):
vs
I am glad Björk kept the train on the tracks percussion.
Many of the rest of Selmasongs' tracks are also slightly different from what is found in the film. They are still backed by the film score, though, which sounds to me like the hopeful music in the first twenty minutes of an 80's horror or disaster flick before everything goes wrong.
Despite the song changes,
Selmasongs
is a decent listen for fans of Dancer in the Dark, who should still be able to connect with the songs, and fans of Björk in general. I am hard pressed to recommend this to anyone else, though. Radiohead fans may enjoy Yorke's appearance on "I've Seen it All," but the rest is hit and miss for non-Björkites.
2000 Elektra
1 Overture 3:38
2 Cvalda 4:48
3 I've Seen It All 5:29
4 Scatterheart 6:39
5 In the Musicals 4:41
6 107 Steps 2:36
7 New World 4:23