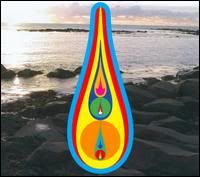 7/10
Even Björk regarded her 2007 album,
Volta
, as
"just okay."
She immediately recorded a live album after
Volta
's release, and even though it is entitled
Voltaic
, her lack of faith in the new material can easily be seen by the lack of
Volta
tracks found within. Less than half of the eleven "live in the studio" tracks come from that album. This isn't the only reason
Voltaic
is a better listen than the album whose title spawned its moniker.
The key to
Voltaic
's enjoyability is its cohesion. Björk brought the brass band that played on some of
Volta
's tracks into the studio for this live recording. Their constant presence, even on old favorites like "Hunter" and "All Is Full of Love," makes
Voltaic
a much more satisfying, comforting experience than
Volta
. While the performances of each song are a bit businesslike, the flow from track to track is excellent. The only real problem with
Voltaic
is that the tracks that weren't great on
Volta
, namely "Innocence" and the woeful "Declare Independence," still aren't good songs, despite the change in sound. As I've previously mentioned, though, there aren't many of those songs to be found here.
Voltaic
is good fun for any Björk fan, and yet another fairly accessible window into Björk's world for newcomers. Also, this trumpety version of "The Pleasure Is All Mine" is really nice. I'd love to see all of
Medúlla
performed in this fashion. Plus, whoever made this video deserves a medal. How fitting.
2009 Nonesuch
1. Wanderlust 5:46
2. Hunter 4:18
3. The Pleasure Is All Mine 3:20
4. Innocence 3:59
5. Army of Me 4:20
6. I Miss You 3:30
7. Earth Intruders 3:51
8. All Is Full of Love 4:04
9. Pagan Poetry 5:14
10. Vertebrae by Vertebrae 5:08
11. Declare Independence 4:18