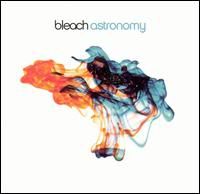 8/10
Bleach retain all the energy that materialized on their Tooth & Nail debut with their sophmore outing for the label,
Astronomy
. However,
Astronomy
is an entirely different creature from its predecessor. A certain weariness crops up that wasn't present before, but this works as a strength. While some of
Astronomy
's tracks are the rowdiest Bleach have ever done, these songs about patience and exhaustion balance things out nicely. In other words, this is still a fun Bleach album, and even though they sound like they've been through some things, they are still coming out on top. The band also do a little experimenting with their sound this time around, especially on "Patience," which sounds like Bleach's take on
Pet Sounds
. Even the spare live version doesn't sound like any of their other songs:
...which might actually highlight the weak spot on this album. When you see that Bleach can be versatile, it's kind of annoying that they don't do it more often. As long as they are pumping out excellent songs like "Tired Heart," that is okay, but a little more of this kind of mixing it up could go a long way in raising Bleach from the level of good band to great band.
2003 Tooth & Nail
1. Get Up 3:10
2. December 2:47
3. Plan to Pull Through 3:40
4. Jaded Now 4:40
5. Astronomy 2:55
6. Living 3:06
7. Nineteen 3:34
8. Patience 3:33
9. Breakthrough 4:21
10. Tired Heart 4:48
11. Moving On 3:13