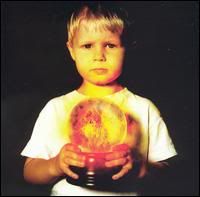 8/10
About A Burning Fire
really could have been something. It's got some of Blindside's best songs. It's pretty good. But it could have been great. The could-have-been theme is in the title. Vocalist/lyricist Christian Lindskog has had it with recording in L.A., and is ready to get back to his wife and home in Sweden. Missing home makes him feel opressed, cold, and alone, and he wants God to basically burn these things away from him, bring him home, and make him new. This could have been an epic album, but those themes are only present on half of the tracks. The middle of the album contains two critiques of consumerism that sound like B-Sides from Blindside's previous album,
Silence
. There's a yodeling song that is surprisingly good ("Shekina"), but doesn't really fit, and a slow jazzy song that isn't great ("Roads") and doesn't fit either. If this album was cohesive, it could be a classic, but as it is, it's just a collection of songs that contains some classics. I know that the band had to not only deal with studio demands (this is their second and final release for Elektra Records), but was also infighting over which songs would make the cut. This second part isn't rumor. The band released studio videos leading up to
AABF
's release that contain some of these arguments, including guitarist Simon complaining, "I want to put the songs that are awesome, but Christian wants to put the songs that suck." Of course, Blindside's members are lifelong friends and not about to let petty things like that ruin their relationships with each other, but unfortunately for the listener, we get an album that doesn't come together as well as it could.
Again, though, there are some truly great songs here, including "All of Us," which might be Blindside's best.
As you can hear, Blindside sound as passionate as ever on this song, and they do on most of the rest of the tracks on this pretty good album. It's most certainly still worth checking out, even though you'd be hard pressed to hear me heap more complaints on an album I gave a final score of an "eight" to.
Also, the closing title track crushes in
A Thought Crushed My Mind
mode (again, out of nowhere). So there's that.
2004 Elektra
1. Eye of the Storm 4:02
2. Follow You Down 3:01
3. All of Us 3:32
4. Shekina 4:46
5. Hooray, It's L.A. 3:17
6. Swallow 2:26
7. Die Buying 3:19
8. Across Waters Again 4:13
9. After You're Gone 2:58
10. Where the Sun Never Dies 4:18
11. Roads 4:15
12. About a Burning Fire 4:36