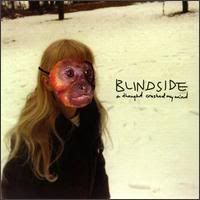 10/10
I've already done an
entire tribute
to this album in an attempt to describe how good I think it is. That doesn't excuse it from the "Every Album I Own" feature, though, so here I'll try to do something a bit different and a lot briefer(...is briefer a word? The more I look at "brief," the more it doesn't seem right either. Sigh...English. It's not even this band's first language, so what does it matter?). Why is
A Thought Crushed My Mind
so much better than Blindside's self-titled debut?
Easy. It is focused. With the recording of one studio album under their belt, Blindside had a good idea of what they wanted to do for their second. After touring with a spate of heavy bands, most notably P.O.D. and Project 86, Blindside decided they wanted to do their own spin on "hardcore" music. They definitely put their individual stamp on it (this band could re-record "Hey Jude" and make it sound like they wrote it). Blindside's undefinable uniqueness is their greatest edge over their peers.
At some point Blindside also figured, "what these songs really need is a string quartet." They were right. I can't really think of any band outside of Sigur Rós (must be a Scandinavian thing) that's used strings to augment their music this successfully. The strings don't pop up on every song, but every moment they appear is a moment they should.
The strings bring the most to the final track, "Nothing But Skin." I mentioned in my review of Blindside's debut that their trademark passion arrived out of the gate. Well, here that passion is focused to a point of beautiful breaking.
A Thought Crushed My Mind
's theme is a brutal personal battle to lose all selfishness and become nothing but a vessel for God. Even if you think that the idea of Jesus Christ is equatable with that of the flying spaghetti monster, "Nothing But Skin" will move you. If it doesn't, I guess you really were created by flying spaghetti because you are not human.
2000 Solid State Records
1. Vow of Silence 3:47
2. As You Walk 4:07
3. King of the Closet 4:03
4. My Mother's Only Son 5:43
5. Act 3:46
6. Silver Speak 3:27
7. Where Eye Meets Eye 3:46
8. Nära 4:44
9. In the Air of Truth 3:00
10. Across Waters 4:28
11. Nothing But Skin 17:10