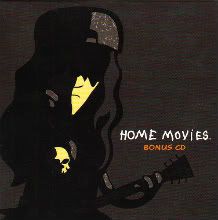 9/10
Home Movies was one of the best television shows in history, and possibly the greatest cartoon series ever aired. Unfortunately, few people have heard of Home Movies, fewer have watched it, fewer have bought the season four DVD boxset, and even fewer have noticed that there was a free soundtrack for the entire series tucked inside. I noticed, though, and I loved it, and I don't care if anyone else does because I am going to review it right now.
My thesis here is that you don't necessarily have to be a fan of Home Movies to enjoy this soundtrack.
Do you like Franz Kafka?
Do you like rock operas about Franz Kafka?
You are in the right place because guess what tracks two through five are? Brendon Small, Home Movies' co-creator, is also a music major, and he took great joy in combining his passion for comedy and music in one place. As funny as some of these songs are (and most are hilarious without needing any context...I mean, who doesn't like a song about fighting by using jazz?), there are also some quite beautiful compositions. Nestled right after "Septopus," a ballad about a seven-tentacled sea-monster who lives on top of a submarine and is always eating pies, the instrumental,"Heart Smashers Theme" is as wistful as a Sunday afternoon.
So there you have it, a near perfect soundtrack full of laughs and beautiful music. You have to purchase the final season of the show on DVD to get it, so you might as well just buy all four seasons and watch the whole thing. You'll thank me later, if you're courteous, I guess, and not some mean, pie-hogging Septopus..
2006 Shout! Factory
1. Season One Opening & Closing Theme 0:45
2. Franz Kafka! Intro 1:19
3. Turnin' To A Bug 0:21
4. Livin' Like A Bug Ain't Easy 0:49
5. Franz Kafka! Finale 0:16
6. Louis Louis Rap 0:37
7. Don't Put Marbles In Your Nose 1:12
8. Don't Kill Children 0:41
9. Season One Act 2 Theme 0:22
10. Season Two Opening Theme 0:21
11. Crazy Legs 0:51
12. Crazy Legs Ballad 0:34
13. Jason's Theme 1:22
14. Jazz Fight 0:48
15. The Birthday Song 1:21
16. Sunset Theme 1:59
17. Alone 1:01
18. President King's Theme 1:29
19. Starboy & The Captain Of Outer Space 0:49
20. The Compliments Song 1:31
21. Hot Dog Music 1:31
22. Victory 1:33
23. Mr. Pants 1:17
24. Bad Coffee 0:58
25. Duanetastic 3:11
26. Duane Outro 1:34
27. Landstander Theme 1:17
28. El Escapo 1:43
29. No Skin Off My Ass 1:19
30. The Ballad Of King Arthur & Robin Hood 3:37
31. Duane's Practice 0:28
32. Jimmy's Big Solo 0:56
33. Duane's Big Solo 0:43
34. Trust Yourself 1:47
35. We Are Artists 0:39
36. Coffins & Cradles Theme 0:53
37. Welcome 2 Hell 2:12
38. Bye Bye Greasy (Medley) 6:01
39. I'll Race (Reprise) 0:33
40. Septopus Theme 1:41
41. Heart Smashers Theme 1:31
42. The Wizard's Baker Rock Opera 1:37
43. I'm A Kid Again 1:28
44. Psycho-Delicate (Medley) 4:16
45. Dog Training Montage 1:48
46. Brendon Steals The Test 0:40
47. Brendon Cheats 0:51
48. Bagpipes 0:52
49. Ping Pong & Too Koo 1:01
50. Timmy! (Medley) 2:37
51. Brendon's Camera 1:10
52. Season Two Closing Theme 0:33