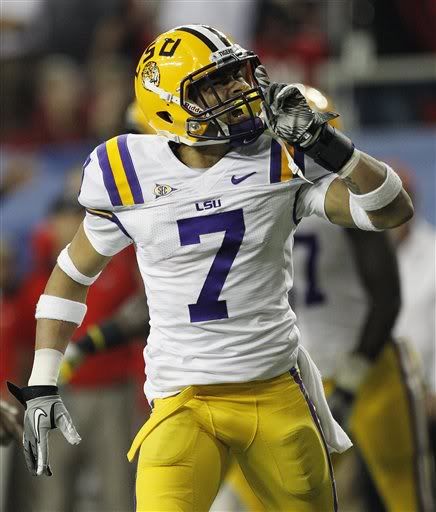 It's finally here! After all the waiting and waiting, the National Championship Game will happen tonight. Go Tigers!
I know some people hate football, but that doesn't diminish my love for the game one bit. You have to think, a lot of these guys have athletic skills the rest of can only dream of, given by God, and what better way to glorify Him than to use them. What I am saying here is that playing football can be an act of worship just as much as well...anything. That leads me to something else awesome.
Last night Tim Tebow and the Bronco's won their playoff game against the Pittsburgh Steelers. I used to hate the guy when he played for Florida because he was LSU's enemy, but now that he is in the NFL, I feel differently. Tebow has shown himself to be a true believer, which makes him my relative, which means I have to pull for him. ESPN recently put a microphone in Tebow's helmet for a game. While I must warn that he sings about as well as I do, check it out.
"No matter what, Lord, win or lose, give me the stength to honor you." This is the correct attitude. Bob Costas once ripped on players who claimed that Jesus lifted them into the air and helped them catch a game-winning pass. As there are people praying on both sidelines for victory, there really isn't any kind of way to understand who God wants to win a football game, or if he even cares. What Tebow prays 5:40 into this video is the right attitude. In life I want to win, but more than anything, I want to glorify God with my actions. That is by far the more important thing. And on that note, here comes another blink-182 review.