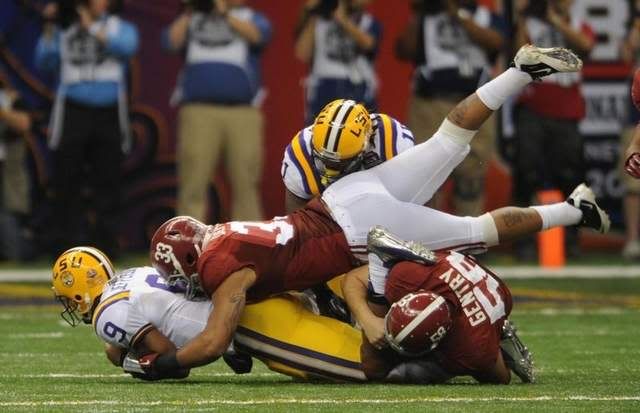 Well, that wasn't very fun. LSU was truly peeleed, and while I think Les Miles might be one of, if not the best coach LSU has ever had, he coached the worst game of his LSU career last night. His stubborn refusal to change an offensive gameplan that wasn't working behind a quarterback who wasn't executing, while the man who led us to eight straight victories, including wins over this year's Rose Bowl and Orange Bowl champions rode the bench is absolutely unfathomable. Miles said he wanted to keep in the guy who could "move his feet," but what he really needed was a quarterback who could move the ball down the field.
Miles took away a chance to win the game. It was only a chance,. Lee may very well have thrown an interception on his first pass, but would he have tossed anything as abyssmal as Jordan Jefferson's shovel pass interception? No. That was as bad as it gets.
I've stuck with and defended Miles through the quarterback fiasco of the last four years. Both Lee and Jefferson were thrown into situations they weren't ready for due to the injury of Andrew Hatch and Ryan Perriloux's Ryan Perriloxing . Now both Jefferson and Lee are gone. I hope they both find success in whatever fields they choose (I think it's pretty clear their football careers are over). Next year it looks like we will be starting off with a young quarterback who has not only been immersed in our offense for a year, but has actually taken game snaps and thrown the ball. Whatever weird streak of loyalty Miles has had to Jordan Jefferson, which seemed to be the biggest flaw in Miles' mostly stellar career at LSU, has finally reached its end. Anyone yelling "fire the coach" obviously hasn't been paying attention for the last seven years. Miles is a great coach whose "never give up" attitude infects his players. But last night, and highly uncharacteristically, Miles appeared to give up.
Well, it's time to cut out all of the advertising. Get back to what you do best, Miles. Drop the Cane's chicken fingers, rebuild in the offseason, and on September 1st lead your 2012 Tigers into Tiger Stadium to demolish North Texas and begin your path to another great season, hopefully one with a happy ending this time. And along the way, remember who you are. Last night we wanted the riverboat gambler who never quits. Not an invisible man.
Bring back The Hat.
Postscript Quote
"I told my team that I did not see it coming, and I think that's my fault," said Miles. "I wish I could've done something to help them. For the players to put themselves in a position to win a game like that," he continued, "to them I owe a lot. We have to do better."
And that's why I love you. See you in nine months, coach.