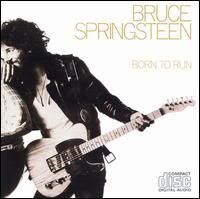 8/10
Springsteen's breakout album is an undeniable change in sound. For one thing, any sense of rambling is gone. This is a straightforward, defiant affair. Max Weinberg (yes
THAT
Max Weinberg) takes over the drumset from Vini Lopez, and the ADD drum sound (I don't mean that as an insult) of the first two albums is reined in for what I guess is a more professional sound. Roy Bittan takes over piano duties and adds a more theatrical vibe to the music. The saxophone is also more prominent than ever. I hate to call this album Bruce Goes Broadway, mainly because I've never been to New York and all I know are stereotypes, but that's the feeling I get with
Born to Run
in comparison to Bruce's previous work.
I know that this is one of The Boss' most heralded albums, but to me it is the least personal. Maybe it's personal to him and the whole "I gotta get out of (run from) Jersey thing," but to me it seems more like a calculated bid to finally make it big. I don't know when I first became a fan of the guy...maybe late high school when I first heard
Nebraska
(thanks to a Soprano's episode featuring the song, "State Trooper") or maybe from all the singles from
Born in the USA
getting blasted at every Parish fair of my childhood. I don't have any kind of personal attachment to this album, though, and listening to it objectively, it's quite good, and I like it a lot, but it's not one of the best ever and it's not even Bruce's best. To me it just feels like it doesn't quite get started. All of the songs are good, and some of them fit together well, but I don't feel like I am getting any kind of complete package. I'm glad that Bruce cut the unnecessary fat that larded up his previous album,
The Wild, The Innocent & the E Street Shuffle
. Only two of the songs on
Born to Run
are over five minutes...but there are only eight of them. Really, though, I don't think that's my problem with the album. My problem is that by the time I heard the vague, West Side Story dramatics of "Jungleland," I had already heard Bruce's highly detailed character portraits in
Nebraska
and
The Ghost of Tom Joad
. Why would I want to come back to this?
Sorry for the blasphemy. I'm just being tough because I know this isn't the best there is.
It's still better than almost anything.
1975 Columbia
1. Thunder Road Springsteen 4:49
2. Tenth Avenue Freeze-Out Springsteen 3:10
3. Night Springsteen 3:00
4. Backstreets Springsteen 6:30
5. Born to Run Springsteen 4:30
6. She's the One Springsteen 4:30
7. Meeting Across the River Springsteen 3:18
8. Jungleland Springsteen 9:35