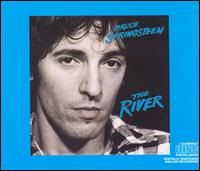 6/10
The River
is Bruce Springsteen's big, dumb record. People like to pretend like there is some great juxtaposition of his more subtle, serious minded songs with more frivolous rocking songs, but that presumption is false. The majority of this 20-track double-album is big, dumb, tongue-hanging out rock. Unfortunately, these songs also have more of a dated sound than the rest of Springsteen's catalog.
Born In the USA
may use more canned drums, but that album still has an inherent timelessness that
The River
lacks. I am not sure what chronological plane
The River
runs through, but it is my least favorite band of sound the Boss has occupied. 4/4 time, plenty of doo-wop organ, not much spontaneity, and general The Nicsperimentdoesn'tlikethisness abound. This is the sound people who think they don't like Springsteen think of when they think about Springsteen (PROOFREADING EDIT: nailed that sentence).
While even some of the ballads are overblown ("Drive All Night" could not be used as a hamburger topping according to the Jewish religion), the saving grace of
The River
are those few scattered quiet, thoughtful songs...and I do mean "few." There aren't a lot of them, "Wreck On the Highway," "Stolen Car" and their small amount of siblings barely redeem
The River
for me. "Stolen Car" in particular paves the way for
Nebraska
, but I shouldn't get ahead of myself.
(This version fits...I reviewed straight from vinyl)
1980 Columbia
Disc 1
1. The Ties That Bind 3:34
2. Sherry Darling 4:03
3. Jackson Cage 3:04
4. Two Hearts 2:46
5. Independence Day 4:50
6. Hungry Heart 3:19
7. Out in the Street 4:17
8. Crush on You 3:11
9. You Can Look (But You Better Not Touch) 2:37
10. I Wanna Marry You 3:30
11. The River 5:01
Disc 2
1. Point Blank 6:06
2. Cadillac Ranch 3:03
3. I'm a Rocker 3:36
4. Fade Away 4:46
5. Stolen Car 3:54
6. Ramrod 4:05
7. The Price You Pay 5:29
8. Drive All Night 8:33
9. Wreck on the Highway 3:53