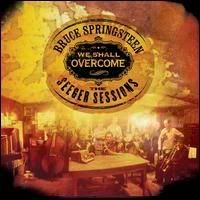 8/10
After the revelatory
Devils & Dust
, Bruce Springsteen found himself at an artistic highpoint. Instead of taking time off to write a new album, he dove directly into a new project. The
Seeger Sessions
album was released exactly a year after
Devils & Dust
and is...different. The positive energy and life from
Devils & Dust
carries over onto this project. Instead of a continuation of sound, though, Bruce decided to get together with a bunch of singers and fiddle and horn players to cover a wagon load old traditional and gospel songs.
I won't lie. Back in 2006, wanting more of what I'd come to expect of Springsteen, I turned this album off after about three seconds. I wish I hadn't, though. It is quite good.
Once the shock wears off, the pure energy and sweeping joy of this recording becomes apparent. There isn't much pre-assembled about
The Seeger Sessions
. Bruce brought a ton of people into his home, put microphones in front of them, handed them sheet music, and let her rip.
"Old Dan Tucker" opens with Bruce and a drummer counting down, a banjo pops up and starts plucking out a melody, Bruce shouts out in a boisterous voice he's never used before, and the band blows in. Bruce's wife and twenty other people shout along in the background.
This is what you get for the next hour. A rollicking good time. Don't be surprised to even hear an accordian and some zydeco tossed in (don't even be surprised when sentences end in prepositions). It's unexpected, but it's good fun. It's obvious Bruce and his pals were having fun, too, which makes most of this album, even the literal ballads, infectious. An hour is a long time, though. This is
The Seeger Sessions'
only real flaw. As fun as this music is, forty-five minutes would have done the job. That withstanding, the sheer guts that Springsteen had to pull this album out of his hat at almost sixty is unbelievable. If you allow yourself the concession that the guy who wrote "Born to Run" is now ripping through "Froggie Went a Courtin'" (and at a tempo the E-Street Band would rarely dare), there is plenty here to enjoy.
2006 Columbia
1 Old Dan Tucker 2:31
2 Jesse James 3:47
3 Mrs. McGrath 4:19
4 O Mary Don't You Weep 6:04
5 John Henry 5:07
6 Erie Canal 4:03
7 Jacob's Ladder 4:28
8 My Oklahoma Home 6:03
9 Eyes on the Prize 5:16
10 Shenandoah 4:52
11 Pay Me My Money Down 4:32
12 We Shall Overcome 4:53
13 Froggie Went a Courtin' 4:32