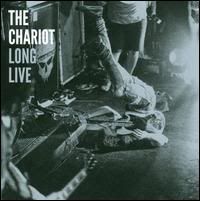 8/10
The Chariot's
Long Live
is much like their debut six years earlier--a blast of pure energy. However, that energy comes through the filter of six years of growth. While this is probably the most metal release since the band's debut, the art punk and noise influences they've picked up since then are still apparent. The experiments in structure from the last album,
Wars and Rumors of Wars,
peek their heads up just a bit, but are mainly limited to the repeated "chorus" of second track, "The Audience." The more overarching thematic feelings of the two albums between the first and this also feel mostly absent. The
Long Live
title is supposed to stand for revolutions, or whatever possibilities the phrase "Long Live" stands for, but this never really comes together. Vocalist Josh Scogin's lyrics are just a little too obtuse this time around to make complete sense out of what he is screaming about. Probably something about fighting and not giving up on each other. I don't know.
While things don't quite come together as well as the last couple of releases,
Long Live
still contains some pretty excellent The Chariot songs. "Calvin Makenzie" will be known for its innovative use of an old record sample, but it's the big guitar riff in the middle that makes the song. Scogin's incredibly delivered monologue near the end of "The City" is a testament to the strength of his lungs and his vocal prowess. "David De La Hoz' is an all-time Chariot great, recorded live in its own music video with dual-drumming, talk-singing, sludge riffs, harp, accordion, piano, and a vibraphone. So even though
Long Live
is not perfect, it is quite difficult to complain about when it contains songs like these.
(Awesome videos don't hurt)
2010 Good Fight
1. Evan Perks 1:35
2. The Audience 2:15
3. Calvin Makenzie 2:14
4. The City 3:57
5. Andy Sundwall 2:53
6. The Earth 2:46
7. David De La Hoz 4:15
8. The Heavens 2:12
9. Robert Rios 2:31
10. The King 5:50