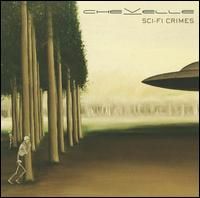 9/10
There is something special about Chevelle's fifth album,
Sci-Fi Crimes
. From the first notes of opening track, "Sleep Apnea," something is different. The crunch of the guitar is so delicious it makes me hungry. Pete Loeffler's voice has a weathered, cathartic edge, making it more appealing than ever. The bass and drums sound so balanced with the guitar, it's almost as if the album was recorded live...wait, IT WAS!
With then ten-year anniversary of Chevelle's debut hitting at the time
Sci-Fi Crimes
was released, Chevelle were suddenly veterans, and it shows. They've always been a trustworthy source of rock, even though their albums up to
Sci-Fi Crimes
all run together. Not this time.
Chevelle have not only learned to write better songs, they've learned to write an album. You can hear it in the elements I've already described in the first song, but "Sleep Apnea" has even more selling points that mirror the strength of
Sci-Fi Crimes:
the way Chevelle delay the payoff of the first chorus until the second, the way the instruments build and increase anticipation, the drop off after the bridge that builds even more anticipation for the final explosive chorus. Chevelle are pros now.
Every song on
Sci-Fi Crimes
is excellent, and what's better, each song feeds into the next. After the heavier, but still dynamically complex opening numbers, "Shameful Metaphors" takes its time subtly building so well that the bridge is literal, leading to an island of a final chorus that rises perilously out of an ocean of sound just as it is reached. "Jars" is a classic Chevelle rocker with just a little more snappiness than usual...it's the kind of addictive song that works well on "repeat."
The rest of the album flows brilliantly. When the tempo needs a boost, "Letter from a Thief" does more than get the job done, amping up the infectious energy to an all new level.
The instrumental "Interlewd" is the most relaxed Chevelle have ever sounded, and the closer "The Circus" is the best ending to an album Chevelle have ever composed.
I can't pay this album much higher a compliment than this:
On
Sci-Fi Crimes
, Chevelle not only sound better than ever, they sound like no one but Chevelle can sound.
2009 Epic
1. Sleep Apnea 3:51
2. Mexican Sun 4:15
3. Shameful Metaphors 4:21
4. Jars 3:19
5. Fell into Your Shoes 5:06
6. Letter from a Thief 3:27
7. Highland's Apparition 4:08
8. Roswell's Spell 4:37
9. Interlewd 1:21
10. A New Momentum 4:25
11. This Circus 4:32