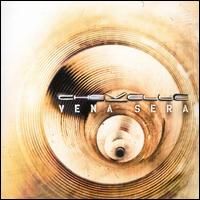 7/10
Chevelle released their fourth album,
Vena Sera
, in the spring of 2007. In a way,
Vena Sera
is more of the same chuggy hard-rock Chevelle had become known for. Upon closer inspection, there are some stirrings in the band's sound...like someone leaked a few drops of food coloring into the clear waters of the Chevelle bucket. Those drops have sunk to the bottom, but hints of colorful clouds are rising. You can hear it in the faster tempo of "Braniac," and the keyboard percolating through "Saferwaters," a song that contains soft verses that aren't just ominous strumming. "Saferwaters" also features a sensitivity in vocalist/guitarist Pete Loeffler's singing that has been absent to this point, particularly when he sings the line, "
you mock the place where I exist
."
Also of note is the exasperated sigh before the ear-screeching scream of "Well Enough Alone." Loeffler doesn't scream often, so this works as a nice attention-getter to kick off the track. Speaking of aggression, "The Fad" features Chevelle's most ferocious chorus yet, while "Straight Jacket Fashion" takes off at a faster clip than any of it's brethren, even "Braniac."
I'm not sure what initiated these slight changes: maybe it's the subtraction of Joe Loeffler on bass and the addition of Dean Bernardini to the same position. This makes Chevelle no longer a band of brothers, and maybe the injection of new DNA means more diversity (then again, Dean is their brother-in-law). Maybe the band was just growing restless with being so straightforward and samey. Whatever the case, in addition to the phrase "At least Chevelle is still bringing the rock,"
Vena Sera
hints at a new proposition: "At least Chevelle is doing something different."
2007 Epic
1. Antisaint 4:21
2. Brainiac 3:21
3. Saferwaters 4:11
4. Well Enough Alone 4:18
5. Straight Jacket Fashion 4:02
6. The Fad 3:37
7. Humanoid 3:58
8. Paint The Seconds 3:58
9. Midnight To Midnight 4:24
10. I Get It 3:54
11. Saturdays 4:06