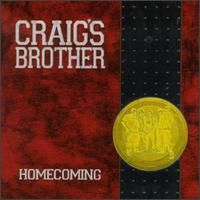 8/10
I wish I could remember how I first heard of Craig's Brother, but I definitely first
heard
Craig's Brother on Shawn Fanning's incredible creation, Napster. The song was "Lonely Girl," and it immediately set itself apart from the "similar results."
It's a punk song, it's upbeat, it's fast, it has some pop-tendencies, but it is, under no circumstances, pop-punk. The singer, Ted, had an incredibly unique voice. The guitarists, Adam and Andy, had the names and telepathic bond of twins. Scott, the bassist and brother of Craig, did not play bass in the stereotypical punk mold. Likewise, drummer, Heath, didn't play in the same old Fat Wreck style. He says it's because he couldn't, but it doesn't really matter--it sounded different, and that's what counted. Together, Craig's Brother quickly forged a name for themselves among fans of non-conforming sounds. "Lonely Girl" comes from
Homecoming
, their debut album.
As I glance at the above paragraph, though I only discussed one song, I see I have already sort of reviewed this entire album. The only thing left to talk about
Homecoming,
really, are the topics Craig's Brother tackled. From start to finish, you have Christian hypocrisy, masturbation, death, alcoholism, alienation, unwanted pregnancy, identity crisis, fighting, mid-life crisis, relationship problems, and regret. Yeah, this definitely isn't a pop-punk album. While there are moments of wordplay that briefly betray the fact that Craig's Brother were fresh out of high school, the majority of the lyrics are shockingly honest and thought-provoking. This latter factor became Craig's Brother's trademark, one they still bear today. Fourteen years ago, though, Craig's Brother were already rocking a well-earned reputation with fans and critics alike.
1998 Tooth & Nail
1. Insult to Injury 3:23
2. Going Blind 2:45
3. In Memory Of 2:42
4. Homecoming 2:57
5. Nobody 3:27
6. Lonely Girl 3:08
7. Who Am I? 3:09
8. Sorry 3:21
9. Dear Charlotte 2:23
10. My Anne 3:04
11. One 3:58
12. Potential 3:15