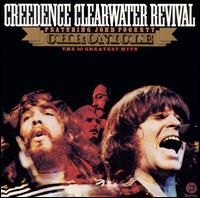 10/10
Listening to twenty straight songs by any band can be a chore. Creedence Clearwater Revival are one of the few acts to lend the phrase "marathon listen" positive connotations.
It is awe-inspiring that in only four years, Creedence put out this many great songs. While it is true that they released dozens of excellent tracks that aren't here on
Chronicle
, it is tough to argue with the inclusion of each of these twenty. The band's jammy, swampy, traditional, and poppy sides over their 1/25 of a century existence are all explored. No one working today shows this much talent at such a prolific level.
Chronicle
is proof positive that CCR was one of the best bands to bring sound upon the Earth.
1976 Fantasy
1. Susie-Q 4:36
2. I Put a Spell on You 4:30
3. Proud Mary 3:07
4. Bad Moon Rising 2:18
5. Lodi 3:09
6. Green River 2:32
7. Commotion 2:41
8. Down on the Corner 2:43
9. Fortunate Son 2:18
10. Travelin' Band 2:07 .
11. Who'll Stop the Rain. 2:27
12. Up Around the Bend 2:41
13. Run Through the Jungle 3:05
14. Lookin' Out My Back Door 2:31
15. Long as I Can See the Light 3:32
16. I Heard It Through the Grapevine 11:04
17. Have You Ever Seen the Rain? 2:38
18. Hey Tonight 2:41
19. Sweet Hitch-Hiker 2:55
20. Someday Never Comes 3:59