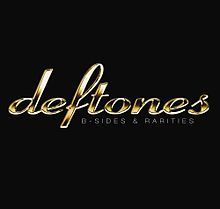 10/10
After some unfortunately severe complications stalled the recording of their fifth album, Deftones decided to compile most of their rare and unreleased tracks into one collection. In related news, a collection of unreleased songs by the Deftones is better than an album of new material from almost anyone.
During my college DJ years, I often got off work late. To me, a quiet radio studio at night is one of the most relaxing environments on Earth. Most of the time (unless I had a test or something to study for), I didn't mind if my relief came in late. I would just tell my listeners farewell, turn off my mic, leave on my headphones, slouch deep into my chair, and play whatever music I wanted. I don't even know if radio stations still receive "singles" anymore, but at the turn of the century, KLSU did, and most of those singles contained "B-Sides." Of course, as CD's don't have a side A and B like a record, the B-Songs were often just a couple of additional, unreleased tracks to sweeten the pot. At the end of their album sessions, Deftones often graciously record a few covers or alternate versions of songs to serve as single B-Sides. Consequently, our radio station had a nice cache of rare Deftones songs. Even if my relief came on time, I could always request that they play something for me.
Nothing like crossing the Mississippi at midnight, alone and driving 35, low in my seat, staring at the city's lights reflected in the undulating waters, listening to this.
Maybe it's bias, but this collection of songs is perfect. The flow is perfect, every song is a ten. Even the pitch-black (That's not a racist pun. It's a really dark song.), rap-heavy Cypress Hill collaboration "Black Moon" works as an excellent lead in for the dreamy, woozy live Cure-cover, "If Only Tonight We Could Sleep." For a Deftones fan, this album is as comforting as it gets. For a non-Deftones fan, there is so much here to like, and so much variety, you'll forget who you're listening to. This isn't "nu-metal" or hard rock, or any other genre. It's just lush, sensual, atmospheric music that's light sometimes and dark at others.
In fact, if you don't like this cover of Sade's "No Ordinary Love," you also probably equate having sexual intercourse to taking a nail shower, eating a delicious meal to sticking your fist into your mouth and chewing, and simply relaxing to kneeling down on the center strip of the interstate with your arms out.
In other words, if you dislike positive sensations, you just absolutely hated that song, and you will without a doubt hate this album.
2005 Rhino Entertainment/Maverick
1. Savory (Jawbox cover featuring Jonah Matranga, Shaun Lopez and Chris Robyn of Far) 4:35
2. Wax and Wane (Cocteau Twins cover) 4:09
3. Change (In the House of Flies) (acoustic, alt. take) 5:16
4. Simple Man (Lynyrd Skynyrd cover) 6:19
5. Sinatra (2005 mix, Helmet cover) 4:43
6. No Ordinary Love (Sade cover, featuring Jonah Matranga of Far) 5:34
7. Teenager (Idiot version, featuring Michael Harris and Daniel Anderson of Idiot Pilot) 3:45
8. Crenshaw Punch / I'll Throw Rocks at You 4:48
9. Black Moon (featuring B-Real of Cypress Hill) 3:18
10. If Only Tonight We Could Sleep (live, The Cure cover) 5:07
11. Please, Please, Please Let Me Get What I Want (2005 mix, The Smiths cover) 2:01
12. Digital Bath (live acoustic) 4:48
13. The Chauffeur (Duran Duran cover) 5:21
14. Be Quiet and Drive (Far Away) (acoustic remix, additional vocals by Jonah Matranga of Far) 4:30