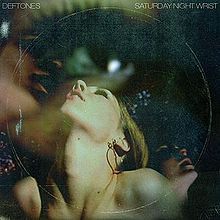 9/10
In setting up this review, I've described
Saturday Night Wrist
as being recorded (to quote one of the funniest movies of all time) direct from hell. Very shortly after this album was released, I got married. I think my wife will agree, the first three or four months of our marriage was the worst time in both of our respective lives. I don't know if it was genetics, parenting, or unrealistic expectations, but neither one of us were even remotely ready for what being married entailed. That, combined with some unresolved past issues that absolutely had to be dealt with led to some quite unpleasant times. I listened to
Saturday Night Wrist
quite a bit then, and maybe that has colored my opinion of the album. Then again, at the same time I was going through my issues, Deftones were in the middle of hating each other so badly, their band was an inch from breaking up, ongoing messy divorces, and Chino Moreno's rock-bottom drug addictions. In my current sunnier times (bout to hit six years, woo, babe!), I hear this album as very dark and resigned, but one with at least a few touches of hope, and at the least, a stubborn notion to stay alive.
Saturday Night Wrist
begins in an upbeat direction...musically. The band crafts a nice, optimistic jam, though DJ Frank Delgado's melancholy sounds underline Chino's vocals "
Can you explain to me now, how you're so evil?
" he sings. "
It's too late for me now. There's a hole in the Earth. I'm out.
" Maybe I wasn't so off base about that whole "hell" thing.
The relatively subdued "Hole in the Earth" leads to the spitting aggression of "Rapture," the music catching up to Moreno's sentiments as he barks curses at someone who "
twist(s) everything else around,
" though he and this person are, "
two different sides, the same kind of thread
."
"Beware" is a warning against taking part in the life Chino has chosen, "
Do you like the way the water tastes? Like gunfire. You knew, but it was never safe. Take one more, because its coming round.
" The song is slow, steady, and relentless, until a sudden dirty, sludgy rockout at the end. Special credit again needs to go to DJ Frank Delgado's freaky noises throughout this song and album. He lends the Deftones a bit of a 1970's sci-fi/ horror feeling, indisposable to their sound.
Delgado's distant, dangerous ship call-like sounds begin "Cherry Waves," as the darkness of
Saturday Night Wrist
deepens. Drummer, Abe Cunningham, and bassist, Chi Cheng, come up with a suitably rolling rhythm, and Chino and guitarist, Steph Carpenter, lend minimal, yet ominous guitar touches until the soaring, self-destructive chorus. "
The waves suck you in, and you drown. If you'd just stay down with me, I'll swim way down with you. Is that what you want?
"
Moreno's misery becomes cosmic on the next track, "Mein." He sings about alienation over the band's quick, otherworldly groove before guest-vocalist/shaman, Serj Tankian, slowly recites the line, "
The universe, breaking us down.
" Yeah, dark.
After a moody, melancholy instrumental, Chino begins the chill "Xerces" with the line, "
The universe surrounds you, when you're ready, it waits for us to leave this Earth
," a nice bit of continuity. Chino also resignedly sings, "
Goodbye, safe heaven, I'll be waving
..." a feeling I felt strongly upon leaving my single life for the unknown. Chino seems fed up with his life and ready to die, even as the song ends on a victorious outro.
"Rats!Rats!Rats!" may be
Saturday Night Wrist
's heaviest track, as Chino Moreno spews vitriol at someone trying to convince him that "
Everything is fine
." The bridge takes a page from Project 86's "A Toast to My Former Self." The song leads to easily the most divisive track on
Saturday Night Wrist
, "Pink Cellphone," a duet with Giant Drag's Annie Hardy. Though "Pink Cellphone"'s music and beat are completely electronic, it does fit with the album's dark atmosphere. On the surface, the song seems anti-religion, but underneath, it's clear it's actually anti-person, a screed against an enemy who believes their deeds are justifiable. The end of the song features a disgusting ad-lib by Hardy that seems quite out of place, but gives the album an even more hellish atmosphere.
"Combat" begins quietly with odd sounds and television voices, almost as if the album needs to recover from what just happened, then erupts into a heavy verse. Chino is more confrontational than ever as he confusedly screams, "
Whose side are you on?
" "Kimdracula" continues the fighting and confusion, leaving Chino in a state of exhaustion.
Saturday Night Wrist
ends on a very earned positive note with "Rivière," one of the most subdued songs Deftones have ever recorded. The majority of the song is simply one guitar and Chino, though the band do make an appearance 3/4 of the way through for one final, quick outburst, before Chino and the guitar finish the song. Chino says "Rivière" was inspired by a story he wrote about a witch, but the true message of the song is clear. You can dwell on your problems and let them consume you, or you can leave them behind. When Moreno closes the album with the line, "
She haunts the road, she waits for a new face
," it's clear he's moved on.
2006 Maverick
1. Hole in the Earth 4:09
2. Rapture 3:25
3. Beware 6:00
4. Cherry Waves 5:17
5. Mein" (feat. Serj Tankian) 3:59
6. U,U,D,D,L,R,L,R,A,B,Select,Start (Instrumental) 4:12
7. Xerces 3:42
8. Rats!Rats!Rats! 4:00
9. Pink Cellphone (feat. Annie Hardy) 5:04
10. Combat 4:46
11. Kimdracula 3:15
12. Rivière 3:45