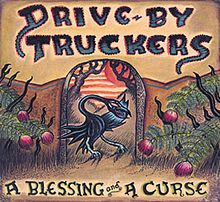 8/10
While Drive-By Trucker's Southern roots are still as wide as a
water oak
's,
A Blessing and a Curse
is the most straightforward, spare work of their career. Their three-guitar rock attack is still on full display, but the track times are shorter than ever, and the words and ideas are more lyrical than narrative. The Truckers were going through difficult times and splits during this recording, and it shows.
A Blessing and a Curse
doesn't feel like a breakup album, though. It's waking up, realizing that what you loved is still gone, walking to the window, and watching life play out in the cold light of day while you smoke your 545th last cigarette.
2006 New West Records
1 Feb 14 3:40
2 Gravity's Gone 3:33
3 Easy on Yourself 3:28
4 Aftermath USA 3:16
5 Goodbye 6:11
6 Daylight 3:35
7 Wednesday 4:04
8 Little Bonnie 3:56
9 Space City 4:48
10 A Blessing and a Curse 5:31
11 A World of Hurt 4:52