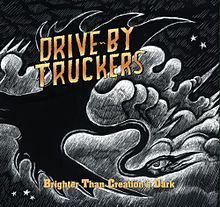 10/10
As I look back on some of my previous "Best of the Year" lists, there are many things I would change. Labeling Drive-By Truckers'
Brighter Than Creation's Dark
as
2008's best album
is not one of them. 2008 was an epic time for me, one of those year's where everything just seemed a little bigger and more important.
Brighter Than Creation's Dark
was released January of 2008, and there wasn't a month of peaks and valleys that passed that it didn't get multiple spins from me (and seeing their
incredible set
at the end of that September was icing on the cake).
Brighter Than Creation's Dark
contains a perfect mix of hard-rocking songs with more thoughtful, stripped down tracks. Every song is its own world, but each fits together effortlessly in a perfect four-side scheme. While any proud Southerner can take tightly to these tracks, anyone with emotion and good taste can easily connect to
Brighter Than Creation's Dark
's sentiments. Jeez, I hate trying to sell something. This album is perfect. Sometimes it's got that classic Southern rock three-guitar attack. Sometimes it has that down home country feeling...not radio country, but just that kind of sound that makes you feel like you are in it. The slide guitar pops up in most of the songs, and it is the album's heart and secret weapon. "Gritty, But Fatherly" Patterson Hood, "Aw, Shucks" Mike Cooley, and "I'm a Girl and I Kick Ass" Shonna Tucker make for the most compelling trio of songwriters on an album ever. Listening to these tales of our tough times matched with feelings of defiance like "A Ghost to Most," loving character portraits of people like "Bob," an overweight single man taking care of his mother, and stories like that of the front-man of an "Opening Act" driving through the night and thinking is pretty much the same thing as eating the best meatloaf ever on top of fresh mashed potatoes under a big scoop of gravy and getting that lovely warm feeling like you are safe and home and the world might be far from a perfect place, but if you think you are going to take me out of it, you have another thing coming. I guess I prefer run-on's to salesmanship.
Now go listen to "A Ghost to Most," below and have nice day:
2008 New West Records
1. Two Daughters and a Beautiful Wife 3:05
2. 3 Dimes Down 3:20
3. The Righteous Path 4:13
4. I'm Sorry Huston 3:11
5. Perfect Timing 2:57
6. Daddy Needs a Drink 3:48
7. Self Destructive Zones 4:12
8. Bob 2:15
9. Home Field Advantage 5:01
10. The Opening Act 6:48
11. Lisa's Birthday 3:19
12. That Man I Shot 6:03
13. The Purgatory Line 3:48
14. The Home Front 3:18
15. Checkout Time in Vegas 2:41
16. You and Your Crystal Meth 2:19
17. Goode's Field Road 5:28
18. A Ghost to Most 4:41
19. The Monument Valley 4:33