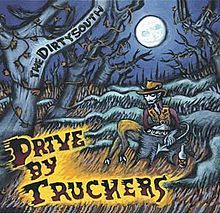 9/10
And here is the album that introduced me and thousands of others to Drive-By Truckers. When I was in college, one of the best ways to find new bands was to watch late night talk shows. Conan O'Brien and Carson Daly (yes, THAT Carson daily. Say what you will about his TRL hosting gig, but the man actually likes good rock music) were the two best options. Both hosts had less well known, but excellent musical guests on almost every night. Even the bigger shows like Letterman featured some pretty sweet bands. I'm assuming all these shows still do, but now that I'm old and go to bed at 8 every night, I couldn't tell you. Anyway, one night during my final semester, I was watching Conan, when this happened:
I immediately knew I had found a band I was going to stick with for life. Their southern attitude, outlook, and hard-rocking, feet-stomping sound were enough for me.
The Dirty South
marks the moment where Drive-By Tuckers truly became a band with three frontmen. The three guitar-players all put in their songwriting time. Patterson Hood contributes six tracks, and Mike Cooley and Jason Isbell contribute four apiece. That's fourteen tracks of musical goodness, mostly centering around the dredges of Southern society, focusing on the perspectives that don't get told. Between the voices of criminals, we also get the point of view of tornado victims, steel-workers, famous dead musicians, a race car driver, and some regular old down-and-outs.Through all these tales, Drive-By Truckers not only show they are one of the most rocking bands on the planet, but also one of the most literary. Listening to
The
Dirty South
is like reading a great book and listening to a great album at the same time. Every song includes a well-written tale, and every tale includes a well written song.
If
The Dirty South
contains a weakness, it's a tiny one. After the album has continuously jumped from perspective to perspective, the three song, fifteen minute-suite from the view of enemies of famed Tennessee
Sheriff, Buford Pusser
, which occurs during the third quarter of the album, just barely outstays its welcome. The three songs are good, especially Mike Cooley's acoustic "Cottonseed," it's just that
The Dirty South
almost grinds to a halt during their duration. It quickly jumps back on track with Cooley's racing tale, "Daddy's Cup," and then chugs along finely into the supremely awesome bad-attitude of the Isbell-led "Never Gonna Change," the song from Conan which is linked above. Somehow, the following track, Patterson Hood's "Lookout Mountain," takes things even further, creating a one-two punch in conjuction with "Never Gonna Change" that is almost to good to be true. I can identify with the singer of "Lookout Mountain" all to well, and every time I hear it, I am thankful for this great band who takes up, fights, and speaks for those of us who just seem to lose a little more than we win.
Listen to "Lookout Mountain"
2004 New West Records
1. Where the Devil Don't Stay 5:19
2. Tornadoes 4:15
3. The Day John Henry Died 3:48
4. Puttin' People on the Moon 4:55
5. Carl Perkins' Cadillac 5:26
6. The Sands of Iwo Jima 4:12
7. Danko/Manuel 5:47
8. The Boys From Alabama 4:27
9. Cottonseed 6:23
10. The Buford Stick 4:43
11. Daddy's Cup 5:53
12. Never Gonna Change 5:25
13. Lookout Mountain 5:02
14. Goddamn Lonely Love* 4:59
*Kudos to the band for finding the same keyboard tone as Sigur Ros' Ágætis byrjun in this song. Don't know if it was intentional, but it sure lifts the end of the album onto a higher plane, all while proving that a little band from the South can do just what a stadium-packing band of aliens from Iceland can.