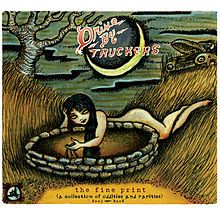 7/10
B-Side collections are rarely good propositions. In the case of Drive-By Truckers'
The Fine Print
, it's a mixed bag of decent, good, and great. Not coincidentally, these also fall under the category of alternate take, original, and cover.
The two alternate versions here, "Uncle Frank" and "Goode's Field Road" are completely negated by the originals found elsewhere.
Gangstabilly
's "Uncle Frank" is grittier and more real, while
Brighter Than Creation's Dark
's "Goode's Field Road" hits the perfect steady, inevitable march the song needs, as opposed to the loose ramble of this alternate take.
The Fine Print
includes six originals that did not make it onto the albums they were recorded for. "George Jones Talkin' Cell Phone Blues" is fun, but forgettable. "TVA" is a decent tale, but told to lengthily. "The Great Car Dealer War" is again a good story (and supposedly true), but just a little too overblown. Jason Isbell's "When the Well Runs Dry" is good, but not better than anything Isbell recorded for the band that made it to an album. "Mrs. Claus' Kimono," Patterson Hood's perverse Christmas tale, is good for a laugh, but it's also good for making the listener feel like they need a shower. "Little Pony and the Great Big Horse" is easily the best of the bunch, perhaps the only originally recorded track here that could have found a place on any of the Truckers' regular full-lengths. "Little Pony and the Great Big Horse" is easily the most gentle song DBT have ever put to tape, something a child could comfortably fall asleep to. It actually makes me wish they would write from an animal's perspective more often. Well, maybe not, but it certainly works in this case.
Finally, we have this collection's strongest suit: covers. The first is a cover of Tom Petty's "Rebels," recorded especially for the excellent television program
King of the Hill
, and commissioned by the producers' of that show with Tom Petty's blessing (Petty was also a voice actor for the program in its latter seasons). If you buy this collection and listen to this song, you will feel like you got your money's worth.
The Truckers also do a nice, laid-back version of Tom T. Hall's "Mamma Bake a Pie (Daddy Kill a Chicken)" that sounds just as authentic as the original. Speaking of authentic, Warren Zevon's "Play It All Night Long" is an extremely cool song, but the satire sounds twice as real coming from Drive-By Truckers, and rocks a hundred times harder.
The only cover that isn't absolutely excellent is the final one, a rendition of Bob Dylan's "Like a Rolling Stone." The Trucker's version is fun, but considering Dylan's words sound like that of an alien coming out of his own mouth, it's tough for anybody else to sing them convincingly. It's still a decent closer for this decent collection.
2009 New West Records
1. George Jones Talkin' Cell Phone Blues 4:07
2. Rebels (Tom Petty Cover) 4:53
3. Uncle Frank (Alternate Version) 5:21
4. TVA 6:56
5. Goode's Field Road (Alternate Version) 4:15
6. The Great Car Dealer War (Alternate Version) 5:37
7. Mama Bake a Pie (Daddy Kill a Chicken) (Tom T. Hall Cover) 3:19
8. When the Well Runs Dry 4:09
9. Mrs. Claus' Kimono 4:25
10. Play It All Night Long (Warren Zevon Cover) 5:10
11. Little Pony and the Great Big Horse 3:37
12. Like a Rolling Stone (Bob Dylan Cover) 6:01