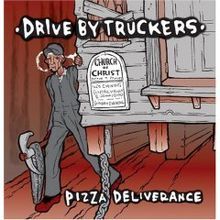 7/10
Drive-By Truckers' sophomore outing,
Pizza Deliverance
, continues in the vein of their debut. There are songs that remind me of picking eggs in Joanie Jarreau's barn when I was six, songs that remind me of driving my car too fast over the railroad tracks when I was 17, and songs that remind me of driving too fast over the railroad tracks while I was reminiscing about picking eggs in Joanie Jarreau's barn. In other words, there are still a bunch of old country-sounding songs, still some rockers, and still some songs that combine both styles.
Guitarist, Mike Cooley, contributes a few more songs this time around, while Patterson Hood continues to contribute the lion's share. These two guys go together like peach cobbler and ice cream, and they stamp out several standouts. "Nine Bullets," perhaps the only song that could make its particularly sinister issue funny, "Uncle Frank," about a relative out of time, "One of These Days," about all manner of things, and "Margo and Harold," about two cocaine-snorting swingers, stand head and shoulders above the pack.
There are parts of
Pizza Deliverance
that betray Drive-By Truckers lack of a certain grace to wit that only comes with age. "The President's Penis Is Missing"'s crassness overcomes the political point it attempts to make, while "Zoloft"'s simplistic humor overwhelms the acorn of tragedy found within.
Still, in only two albums, Drive-By Truckers have established themselves as an ass-kicking force to be reckoned with. There's an obvious wave of even bigger talent lurking underneath that's just waiting to crest.
1999 Soul Dump Records
1 Bulldozers and Dirt 4:29
2 Nine Bullets 4:05
3 Uncle Frank 5:29
4 Too Much Sex (Too Little Jesus) 3:16
5 Box of Spiders 3:30
6 One of These Days 5:15
7 Margo and Harold 4:51
8 The Company I Keep 7:02
9 The President's Penis Is Missing 4:12
10 Tales Facing Up 5:03
11 Love Like This 5:23
12 Mrs. Dubose 5:40
13 Zoloft 3:17
14 The Night G.G. Allin Came to Town 4:50