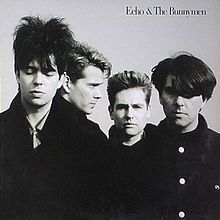 7/10
After a few listens, I originally discounted Echo and the Bunnymen's self-titled album as a sellout record. However, before I went back to it for this review, I thought, "Well it
is
Echo and the Bunnymen selling out. Their talents should still shine through." Time to look at things with fresh eyes.
"The Game" is a good upbeat, but melancholy opener. I don't remember it being this good to be honest, but then again I am older and sadder than I used to be. "Over You" instantly reminds me of what originally ticked me off about this album. It reduces an incredibly unique rock band to your basic 80's pop-rock sound. I mean, it's not a bad song, and Ritz aren't bad crackers, but I'd rather eat a steak. "Bedbugs and Ballyhoo" is weird, and that is good. Despite the fact that it's over-polished, it's got a classic Echo guitar riff, bassline, and drumbeat, plus
Ray Manzarek
plays keyboards. "All in Your Mind" is decent, but hugs the 80's sound too tightly--the
gated drums
are particularly maddening when Echo's drums usually sound like thunder. "Bomber's Bay" is a well-regarded song, but it's kind of boring to me.
Next up is "Lips Like Sugar," probably the Bunnymen's biggest hit in America, and with good reason. It's a pretty sublime song, and it sounds better the more you hear it. Then again, it is really tough to see this very British band get Americanized.
"Lost and Found" isn't a song I've heard mentioned a lot, and that is a shame. It really is a buried gem, but after that, the following tracks are pleasant 80's wallpaper. That's really a shame. Echo and the Bunnymen used to knock down walls and smash foundations. They are not supposed to be the most boring part of the house. They are supposed to define the 80's, not take notes from it. Ahh, oh well. It is what it is. The band unofficially broke up a year later amid a many number of tensions. Then they got back together with a new singer, then they really broke up, then...I'll get to that. As it is, some of
Echo and the Bunnymen
is classic work, and some of it is boring, dated mush, not bad, but tragic considering the creativity this band was capable of.
What U2 Were Doing At the Time:
"
Then there was U2's album,
(1987's)
The Joshua Tree, and I remember thinking, "They're making records that are better than ours' and that really scared me.
"--Ian McCulloch, Echo and the Bunnymen frontman
"
We should have been in America, playing every shitty place again, but I thought it would be crap, and in the Bunnymen, you couldn't be crap. I hated being away for three weeks; it was all cold silences. The atmosphere was hell. Some people have the ability to stick it out, like U2, but they're Irish. They've got that wandering Gypsy mentality. We could never have done it in a million years.
"--Will Sergeant, Echo and the Bunnymen guitarist
That about sums it up.
2003 Edition Bonus Tracks:
"Jimmy Brown" is an earlier, rawer version of "Bring On the Dancing Horses" that features Ian McCulloch nearly screaming the chorus. "Hole in the Holy" is in a similar vein to the majority of
Echo and the Bunnymen
. "Soul Kitchen" is a fun Doors cover (though less famous than the "People Are Strange" one they did for
Lost Boys
). An acoustic cover of "The Game" captures its wistful sadness well. An early version of "Bedbugs and Ballyhoo" may actually work a little better than the album version simply because it isn't as meticulously put together. "Over Your Shoulder" is a distortion overdriven song that is so out of place with the rest of the songs on
Echo and the Bunnymen
it almost
doesn't stand out
. A nice extended version of "Bring On the Dancing Horses" closes out this period of original member Bunnymen records, and also ends Rhino's set of re-releases. That means the end of the bonus tracks section, too. Sob.
1987 WEA/Sire
1. The Game 3:50
2. Over You 4:01
3. Bedbugs and Ballyhoo 3:28
4. All in Your Mind 4:32
5. Bombers Bay 4:22
6. Lips Like Sugar 4:52
7. Lost and Found 3:37
8. New Direction 4:45
9. Blue Blue Ocean 5:08
10. Satellite 3:04
11. All My Life 4:07
2003 bonus tracks
12. Jimmy Brown (early version of "Bring On the Dancing Horses") 4:07
13. Hole in the Holy 4:44
14. Soul Kitchen 3:56
15. The Game (demo) 3:57
16. Bedbugs and Ballyhoo (early version) 3:41
17. Over Your Shoulder 4:10
18. Bring On the Dancing Horses (extended mix) 5:50