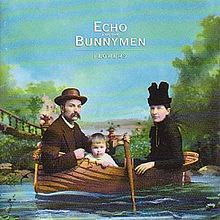 7/10
I said Echo and the Bunnymen's
What Are You Going to Do With Your Life?
was the sound of frontman, Ian McCulloch, watching his sun set and waiting for the stars to come out. On its follow up,
Flowers
, the stars have come out, but McCulloch has wandered into the woods.
Flowers is a weird, mellow, trippy album for most of its run. That sound works for McCulloch and fellow original member, guitarist, Will Sergeant. They are obviously far chilled out from their crazy post-punk days, but realize weirdness has always been one of their charming strongsuits. The relaxed, but slightly dark acid trip of the first seven tracks works well, even when some poppy hooks nod their way in. Unfortunately, the more lucid, old-dude rock of the final four tracks re-rails the delightful derailment of those first seven songs and just makes Echo and the Bunnymen sound ordinary. It's a shame. I rather the whole album sound like this:
Then again, seven out of eleven ain't band. I guess I can round down that second number.
What U2 Were Doing At the Time:
A few months before
Flowers
was released, U2 released their "comeback" album,
All That You Can't Leave Behind
. Perhaps taking a page from Echo and the Bunnymen's now nearly two-year old
What Are You Going to Do With Your Life?
, U2 embraced their aging rock star identity with admirable results. However, U2 had already taken over the world, and was basically just sitting by the stage. All they had to do was hop back on it. By the turn of the century, Echo and the Bunnymen were now nothing but a cult phenomenon, albeit one I enjoyed and still enjoy highly. One review to go.
2001 Cooking Vinyl
1. King of Kings 4:24
2. SuperMellow Man 4:58
3. Hide & Seek 4:07
4. Make Me Shine 3:54
5. It's Alright 3:32
6. Buried Alive3:55
7. Flowers 4:16
8. Everybody Knows 4:40
9. Life Goes On 3:59
10. An Eternity Turns 4:03
11. Burn for Me 3:41