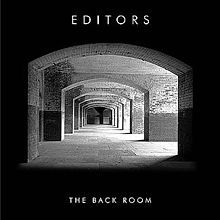 7/10
Editors' debut album,
The Back Room
, kicks off with "Lights," an incredible song, pulsing with dark, dynamic, post-punk energy. "Lights" owes in no small part to
the band I just finished reviewing over the past two weeks
. The second track, "Munich" might even be better, more urgent, yet tempering it's bleakness with a laconically humorous attitude. It seems that we are in for a debut for the ages. Sadly, this is not the case.
The returns and the sense of urgency diminish quickly, and the tone gets blurry. The following nine tracks are pretty solid, but nowhere near fulfill the promise of the first two. What's worse, there's a certain drowsiness that kicks in around the midpoint, that feeling of falling asleep to an album and awaking five songs later, disoriented. I can't really describe it in less abstract terms, but I've never been able to shake it when I listen to
The Back Room
.
Still, on the basis of the utmost quality of the first two tracks and the solid if samey virtues of the rest, Editors establish themselves as a band to watch.
2005 Kitchenware/Fader Label
1. Lights 2:31
2. Munich 3:46
3. Blood 3:29
4. Fall 5:06
5. All Sparks 3:33
6. Camera 5:02
7. Fingers in the Factories 4:14
8. Bullets 3:09
9. Someone Says 3:13
10. Open Your Arms 6:00
11. Distance 3:38