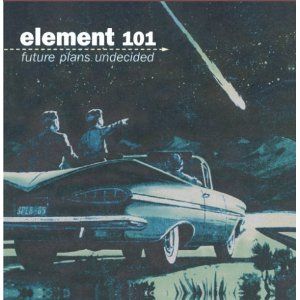 7/10
From one female-fronted rock band to another. Element 101 were one of those cool turn-of-the-century bands to name themselves after a noun and a number. This is pop-punk music, I guess, because Crissie Verhagen just sings about her life, as opposed to protesting the goat farmers of America, or complaining that women are supposed to shave their armpits, or something. Debuts can be a shaky thing, but Element 101 seem pretty sure of what they want to do, mixing sharp but not too distorted guitar lines and power chords over flowing, elastic basslines, and rapid fire drums. Crissie has a small voice, but she makes it heard. Overall,
Future Plans Undecided
sounds a little bit like a senior year Friday afternoon. Fun and breezy, but with the expectation that something bigger is about to blow around the bend.
Also of note: This band is from Jersey. If MTV made a reality show about them instead of carrot-toned morons, people would have a higher opinion of the state.
Also, also of note: This album was produced by MxPx frontman, Mike Herrera, who does a nice job approximating the feelings of the sounds at the time. Shortly after this, he'd also start producing his own band.
2000 Tooth & Nail Records
1. Between Now & Then 3:11
2. Leaving Me Before The Spring Semester 2:30
3. In My Heart On My Mind 2:31
4. Galaxy Apart, A 2:53
5. So Unpredictable 2:13
6. Keeping Secrets 2:38
7. Some Chances Are Worth Taking 2:43
8. Jersey Never Seemed So Long 2:20
9. Preconceived Notions 2:10
10. Some Things Are Better Left Unsaid 1:03
11. Only In Pictures 2:58
12. You Never Cease To Amaze Me 3:15