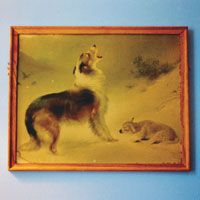 9/10
Explosions in the Sky improvised one song a day for eight days to record
The Rescue
EP for Temporary Residence Limited's "Travels in Constants" series. The band took their middle-of-nowhere van-breakdown imposed experience of living in a stranger's attic for eight days as inspiration for the EP. Because of these factors,
The Rescue
is more loose and and free than anything Explosions in the Sky have ever done. It differs greatly from their usually meticulous, methodical approach, and it acts as the wild card in their discography. It is also a pleasure to hear.
The Rescue
contains a unique, wintery, holiday feeling. Explosions in the Sky experiment with plenty of bells, alternative percussion, piano, acoustic guitar, and even vocals and spoken word (telling the story of their breakdown), while keeping just enough of their original electric guitar sound to ground the music in a familiar place. The result is a warm, comforting album, a healing balm for damaged ears, and another feather in Explosions in the Sky's cap. Though I not sure who wears caps with feathers in them these days. That would look kind of silly.
This EP can be downloaded for free from the band
HERE
.
Here is
The Rescue
's most wistful track, "Day Seven."
2005 Temporary Residence Limited
1. Day One 4:32
2. Day Two 3:47
3. Day Three 4:34
4 .Day Four 3:00
5. Day Five 4:35
6. Day Six 5:22
7. Day Seven 4:23
8. Day Eight 2:35