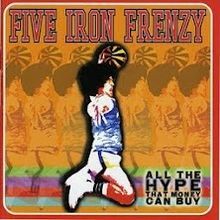 8/10
All the Hype That Money Can Buy
features some of Five Iron Frenzy's best songwriting yet. It also features a whole bunch of other stuff. The more serious songs feature more emotion than ever. Reese Roper obviously went through some serious pain to pen the incredible bridge to album opener, "The Greatest Story Ever Told."
Likewise, the melody and songwriting of track nine, "Hurricanes," has to put Five Iron Frenzy into the pantheon of great Christian bands. Five Iron was braced to breakout on the national scene with this album. The fact that Roper clung so tightly to his faith, when singing about literally anything else would have skyrocketed the band's popularity, is extremely commendable--(Dashes-"When you want to make your sentence even longer!")it is also what makes the best songs on this album so good--Roper's passion. I'm not even sure if more dashes made that sentence work. I just feel like dashes today. And nitpicking.
After the outcry of "Hurricanes," the anti-corporate "Giants" should act as the penultimate moment of the album. The band is down, and now it's time to pick this train up and head toward the promised land. Five Iron were kind enough to craft TWO upliftinh album closers in the excellent "A New Hope" and "World Without End." The problem is that "Giants" is not immediately followed by these songs. It is immediately followed by the joke song, "I Still Like Larry," then the should have come earlier title-track, and then a completely superfluous and goofy cover of Tom Jones' "It's Not Unusual" (Though Roper really sounds like he means it when he songs, "I want to die."). I'm not saying that Five Iron Frenzy should have forsaken their humorous roots for this album. "The Phantom Mullet" and "You Probably Shouldn't Move Here" are both hilarious, and are irreplaceable in their earlier album slots. I'm just saying, there's a clear time to joke, and a clear time to cut it out and just be awesome, and Five Iron miss their chance to do the latter in the final stretch of
All the Hype That Money Can Buy
. A more concise version of
All the Hype
could have simply cut "I Still Like Larry" and "It's Not Unusual" and placed the title track after "You Probably Shouldn't Move Here." "A New Hope" and "World Without End" would still end the album, but are now directly after "Giants." I think this thirteen track album would have been considered one of Five Iron's best.
As it is, the divisive
All the Hype Money Can Buy
is full of enough great songs to qualify as a must listen, but too overstuffed and badly paced to be considered a classic. Just like this review.
2000 Five Minute Walk/SaraBellum
1. The Greatest Story Ever Told 3:19
2. Me Oh My 2:16
3. Solidarity 3:31
4. The Phantom Mullet 2:59
5. Ugly Day 3:36
6. Fahrenheit 3:35
7. Four-Fifty-One 3:04
8. You Probably Shouldn't Move Here 2:30
9. Hurricanes 3:47
10. Giants y 4:13
11. I Still Like Larry 0:31
12. All the Hype 3:04
13. It's Not Unusual 2:21
14. A New Hope 2:38
15. World Without End 3:45