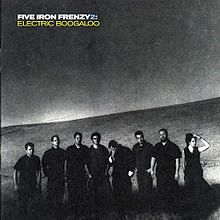 10/10
Five Iron Frenzy had to do three things to make a great album.
1. Relegate the joke songs to early in the album.
2. Turn their horn section into something essential, as opposed to a gimmick of genre.
3. Write a bunch of great songs that fit well with one another.
In late 2001, six years after their formation in Denver, Colorado, Five Iron Frenzy did put these three factors together.
Five Iron Frenzy 2: Electric Boogaloo
, despite featuring the most ridiculous title of any of Five Iron Frenzy's work, is by far their greatest album. The title isn't without significance, though--the "2" is important: it signifies a musical rebirth for the band, just as much as me putting a dash and a colon in the same sentence signifies that I need an editor.
The album kicks off with the fast and funny "Pre-Ex-Girlfriend" before immediately segueing into the more serious "Far, Far Away." This stark, emotional look at the life of Christ showcases Five Iron's new, far improved sound. The horns serve and bolster the song, build up the chorus. This isn't anything close to ska music anymore. This is a rock album. "You Can't Handle This" follows, and is one of the funniest songs the band have written, but it's the last "joke" song of
Electric Boogaloo
, and it contains tiny seeds of underlying sadness that underscore the vibrant emotions of the rest of the album.
What immediately follows is the best one-two combo Five Iron Frenzy ever recorded. "Farsighted" is a joy-soaked, adrenaline-rush of a dedication to dreamers. The band end "Farsighted" with beautiful sounds of guitar distortion and horn-tuning before ripping into "Spartan."
When Reese Roper opens "Spartan" with the line, "
Billie Holiday on the radio
" you know you are in for a great song. "
Limping through the world, there's a knowing look or two/ Is it just the cripples here who understand the truth?/ Why is love so painful? Why do we always lose? Paving pathways for the lost, the bitter, and recluse?/ He said "Love endures all things," and it hurts to think it's true/ did it nail Him on a cross/ did it crucify Him too?
" Earlier in the song, Roper sings the same verse ending refrain, except with the lyrics, "He said "
Love endures all things," and it hurts to think He's right/ If I mark the span of failure/ is his burden just as light?
" Listening to this bittersweet song and actually paying attention to the lyrics, it's pretty difficult to not sob uncontrollably. Roper is on fire lyrically throughout
Electric Boogaloo
. Man, that just doesn't sound right.
Five Iron Frenzy have always supported the plight of Native American's, and all that culminates with "The Day We Killed," the angriest thing Five Iron Frenzy have put to tape. "Juggernaut" continues the bands celebration of the weak, juxtaposed with "Plan B," in which Roper sardonically comments on his own lamentable laziness. "Blue Mix" again attacks those who would take advantage of the lesser (in this case in the music industry). "Vultures" targets corporatism and crass commercialism, hoping for a revolution. "Car" laments the death of a loved one but charges ahead on hope to "Eulogy," the album's heartbreaking conclusion. "Eulogy" deftly mixes
Electric Boogaloo
's blend of hope and sadness to maximum effect.
"
The murky sea is black/ dismal and so deep/ millstones rocket through the dark/ into its icy keep/ A resting place for broken ships/ a cemetery for the humble/ no one's here to make you stumble/ If Jesus Christ is true/ then I am mostly lies/ if Jesus Christ is Love/ then I have failed to try/ if Jesus Christ is Life/ then please just let me die/ let...this...die...
" Jeez, if you weren't crying yet...
You can get away with this darker stuff if you temper your album with enough joy, and Five Iron Frenzy certainly do on
Five Iron Frenzy 2: Electric Boogaloo.
Even after "Eulogy"'s final plea, the song and album still end on a hopeful chord. And based on the album title alone, it's clear that Five Iron Frenzy still don't think too highly of themselves, even if their music has taken a deeper tone. I would have taken another dozen albums like this.
NOTE:
I have a hard time separating this album from January of 2002, sitting in my car on Highland Road. I had moved to an off campus apartment the previous summer, after nineteen years in the same home with my family. Finally feeling adjusted to life in the city on my own, I jammed to this and plenty of other great albums that spring, and I will always have positive feelings for the music I was listening to during that semester. I don't think that has a bearing on the score I gave this album, but I figured I should mention it.
2001 Five Minute Walk/EMI
1. Pre-Ex-Girlfriend 2:53
2. Far, Far Away 3:30
3. You Can't Handle This 3:53
4. Farsighted 3:34
5. Spartan 2:49
6. The Day We Killed 3:25
7. Juggernaut 3:33
8. Plan B 2:31
9. Blue Mix 3:04
10. Vultures 3:03
11. Car 3:16
12. Eulogy 3:50