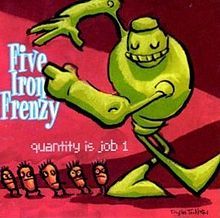 8/10
Quantity Is Job 1
shows Five Iron Frenzy treading deeper emotional waters while also not being afraid to hop back into the kiddie pool to make...bubbles. Reese Roper's voice has undergone a very subtle change for this EP. Whether through personal heartache, or the simple trials of growing older, a faint quiver of additional emotion has infiltrated Roper's vocal chords.
Roughly half of
Quantity Is Job One
's run-time is devoted to serious matters, but even the band's cover of ELO's "Sweet Talkin' Woman" contains a hint of sadness. Maybe the band have fully grown into its "voice of the oppressed" mantle. "All That Is Good" tackles perfectionism, "Dandelions" praises the God of those with little to give, and "One Girl Army" speaks for itself. "Get Your Riot Gear" takes on the Denver PD (and always gives me an image of FIF trying to fight the police and getting billy-clubbed into saying "Uncle"), and even "The Untimely Death of Brad" makes Internet rumor into a frightening all-consuming beast Five Iron Frenzy must confront. Then the band begin a bizarre eight-part meditation on the ownership of a pair of pants.
The "These Are Not My Pants" rock opera is the best kind of ridiculousness, and somehow complements everything that came before it, furthering the familiar feeling that one is actually hanging out with Five Iron Frenzy. By the time the bleeped, fake-profanity of the Hip-Hop portion of "These Are Not My Pants" brings the suite to a close, the listener isn't ready to say goodbye. And that's just fine. Have you heard about a kingdom ruled exclusively by dinosaurs? Because if you stick around until the end of
Quantity is Job 1
, you will, at an impressive volume.
I really feel like the
Quantity is Job 1
EP marks the moment that Five Iron Frenzy branded themselves on fan's hearts. I enjoyed
Our Newest Album Ever!
, but after
Quantity is Job 1
, I knew I wasn't going anywhere.
1998 Five Minute Walk
1. My Evil Plan to Save the World 3:26
2. All That Is Good 3:23
3. Dandelions 3:18
4. One Girl Army 3:05
5. Sweet Talkin' Woman 3:18 (ELO cover)
6. When I Go Out 0:10
7. Get Your Riot Gear 3:45
8. The Untimely Death of Brad 4:20
9. These Are Not My Pants (The Rock Opera) (Salsa) 0:34
10. These Are Not My Pants (The Rock Opera) (Meat Loaf) 0:55
11. These Are Not My Pants (The Rock Opera) (Country) 0:46
12. These Are Not My Pants (The Rock Opera) (Heavy Metal) 0:49
13. These Are Not My Pants (The Rock Opera) (R&B) 0:54
14. These Are Not My Pants (The Rock Opera) (Reggae) 0:43
15. These Are Not My Pants (The Rock Opera) (Cha Cha) 0:50
16. These Are Not My Pants (The Rock Opera) (Hip Hop) 1:17
17. When I Go Out/Kingdom of the Dinosaurs 8:57