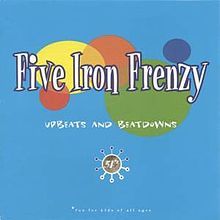 7/10
Everybody's gotta have a debut, and this is Five Iron's.
Upbeats and Beatdowns
is rawly recorded, and not very diverse, but it already shows the bands' excellent knack for juxtaposing their unique brand of humor with serious social issues. Five Iron's two main causes are clear from the get go: the needed acknowledgment of the historical injustices perpetrated on Native Americans, and the importance of placing one's faith in God ahead of one's faith in country. Then you have songs about
Diff'rent Strokes
.
At this early stage in the band's career, whether they are being serious, sacred, or silly, they are rocking out a lighthearted ska sound. The previous sentence makes me want to punch myself in the face. Anyway, if you hate ska, you'll hate this, but if you remember it fondly, I don't see how you could have a problem with
Upbeats and Beatdowns
, unless it's just not cool enough for you.
1997 Five Minute Walk
1. Old West 2:20
2. Where the Zero Meets the Fifteen 3:04
3. Cool Enough For You 3:45
4. Anthem 2:43
5. Faking Life 2:49
6. Shut Up 0:04
7. Arnold and Willis and Mr. Drummond 2:36
8. I Feel Lucky 3:18
9. Milestone 3:12
10. Beautiful America 3:43
11. Combat Chuck 2:09
12. Amalgamate 2:58
13. Everywhere I Go 2:16 (Amy Grant cover)
14. A Flowery Song 3:40
15. Third World Think Tank 8:42
16. Combat Chuck's Call 1:42 (hidden track)