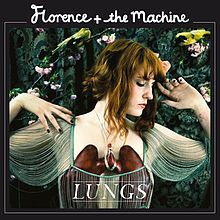 7/10
I've gone on
at length
about my dreams of someone one day filling the considerable Björk-sized hole in my heart. From the first moment I heard that weirdo sing, I knew I was in love, and now that she has been running on artistic fumes for close to a decade, I need someone to step-up and be a successor. There have been numerous candidates who have only turned out to be little fireflies in the glow of Ms. Guðmundsdóttir's sun.
Alas, when I saw this video in late 2010, I thought I had found her.
Huge, powerful, unusual voice, singing overdramatically and at the peak of its range? Check. Weird, ethereal arrangement? Check. Video that matched those things? Check. New Björk is that you?
No. Florence does not fill the hole. While
Lungs
, her debut album, is quite enjoyable, it simply sounds like the work of an array of producers, not the unified vision of a mad, fairy genius.
Lungs
does hold together decently, though. Florence"s voice is pretty singular, and a palatial vein running through most of
Lungs
lends it a pretty nice flow (Florence also has some weird, neo-flapper thing going on, too). But at the end of the day,
Lungs
is just a pop-record pieced together by half a dozen songwriters, albeit some pretty good ones. The Icelandic monolith stands alone. Of course, even Björk's debut album isn't the greatest thing ever...
2009 Island
1. Dog Days Are Over 4:13
2. Rabbit Heart (Raise It Up) 3:52
3. I'm Not Calling You a Liar 3:05
4. Howl 3:34
5. Kiss with a Fist 2:04
6. Girl with One Eye 3:39
7. Drumming Song 3:44
8. Between Two Lungs 4:09
9. Cosmic Love 4:16
10. My Boy Builds Coffins 2:57
11. Hurricane Drunk 3:13
12. Blinding 4:40
13. You've Got the Love 2:49