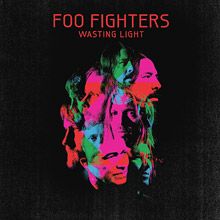 9/10
Wasting Light
, Foo Fighters' seventh album, is something of a renaissance for the band. After selling out stadiums for years, frontman, Dave Grohl, decided there was only one way for the band to get back to their roots: record entirely to tape in his garage. Grohl also brought Butch Vig, the producer of Nirvana's seminal
Nevermind
, into the mix.
The result is Foo Fighters best work in ages.
Wasting Light
's songs, recorded live with little room for error, sound raw and electric, but the writing is that of a polished veteran. The combination works wonders, as an aging Grohl reflects on his life and mortality.
To bolster the old-school nature of the album, no computers were involved in the making of
Wasting Light
. Even the artwork was made with copy machines. Early
Wasting Light
buyers (myself included) received a slice of the original analogue tape masters, which were destroyed after recording for that very purpose.
If Foo Fighters wanted to endear themselves to fans with this album, I can vouch that it worked. I've had just as many good times with
Wasting Light
as the soundtrack as I did with the band's older work. Foo Fighters can put to rest any grumblings that they aren't the real deal, even in their own imaginations. They are one of the great American rock bands.
Here is Foo Fighters' video for "Rope," which was directed by Grohl himself and shot entirely to VHS.
2011 RCA
1. Bridge Burning 4:46
2. Rope 4:19
3. Dear Rosemary 4:26
4. White Limo 3:22
5. Arlandria 4:28
6. These Days 4:58
7. Back & Forth 3:52
8. A Matter of Time 4:36
9. Miss the Misery 4:33
10. I Should Have Known 4:15
11. Walk" 4:15