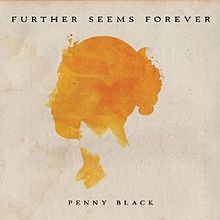 7/10
Further Seems Forever sound older but not washed up on their reunion album,
Penny Black
, happy to be making music together again. Returning original frontman, (the now gritty) Chris Carrabba, sounds more energetic than anyone, wanting to give something back to the band he left twelve years ago.
Penny Black
's production is strangely muddy, which may be the band experimenting with a harsher tone more befitting men in their 30's. If anything, it is definitely different.
Penny Black
does start to bog down in sameness in its latter half, but it never completely runs out of steam, and the acoustic closer, "Janie," sounds more like a casual victory lap than a resignation of fate. Perhaps most importantly, Further Seems Forever prove that they can still churn out some classic songs, with the two opening tracks being prime candidates. My favorite
Penny Black
track, though, is "A System of Symmetry," which breaks completely new ground for Further Seems Forever. It is a strange mix of repetitive riffing and electronics, and if they ever plan on releasing another album, I wouldn't mind if they explored this particular path a little more.
Of course, the main thing we all want from a Further Seems Forever release is the rock (I'm guessing this is what you guys want...if not, maybe "the polka?" "The Tango?" "The Django?"), and as long as they continue to bring it, they can put out as many reunion albums as they want.
2012 Rise
1. So Cold 3:17
2. Rescue Trained 2:47
3. Way Down 3:11
4. King's Canyon 3:20
5. Staring Down the Sun 2:51
6. A System of Symmetry 2:37
7. Penny Black 3:19
8. On the Outside 2:47
9. Engines 2:31
10. Rusted Machines 3:17
11. Stem the Loss 3:02
12. Janie